Bobby Lashley Makes a Huge Offer to Brock Lesnar
Published 07/06/2020, 10:35 AM EDT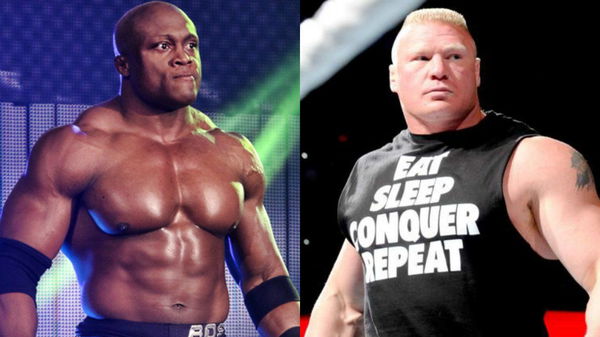 ---
---
Bobby Lashley speaks about a possible match with Brock Lesnar. On the table talk podcast, Lashley says he is open to any type of match ranging from MMA to Wrestling.
ADVERTISEMENT
Article continues below this ad
Bobby Lashley may not be as successful as the Beast incarnate. However, their career road map is almost the same.
Apart from wrestling in the WWE, these athletes have also earned their name in other promotions and countries.
ADVERTISEMENT
Article continues below this ad
The Beast and The Dominator tested their mettle in MMA and were successful. Brock Lesnar is a former UFC heavyweight champion and Bobby Lashley is a two time heavyweight champion at Shark Fights and XFN fight night.
On the RAW after WrestleMania in 2018, Bobby Lashley returned and attacked Elias. The Almighty would go on to feud with Roman Reigns.
However, The Big Dog would go over and Lashley dropped to the mid cards. Lashley then would go on to win the Intercontinental title twice.
Unfortunately, both his reigns combined would be just for 61 days.
He went on to have a feud with Rusev after Lana cheated on the latter with The almighty. Even that rivalry failed to propel Lashley to main event status.
It was then that he joined forces with MVP and things begun to change as he got a title shot against Drew McIntyre.
Sadly, he lost that match and is again on the mid-card.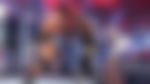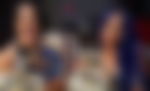 Bobby Lashley willing to fight Brock Lesnar in an MMA fight
On a podcast with table talk, Lashley speaks about why this fantasy match between Bobby Lashley and Brock Lesnar did not take place.
"I think that's something that needs to happen, whether they do it or no. At one point in time, they were teasing it and they wanted to see where it went, but at that time he was in a knee-deep feud with Roman, and Seth was coming behind, they already had things lined up for him. I think the time for this fight is now, my character is really developing into who I am."
D-Von Dudley, part of the podcast, went on to ask Lashley if WWE should rush things and do it quickly or wait till the Pandemic ends. He also asked The Dominator about the type of match that he would like.
Here is what The Almighty said in reply.
"Gotta wait, gotta wait, cos I don't know when are we going to be out of this, that's the bad part. I think that me and Brock even the fact if we are teasing it, the tremendous amount of tv just showing the way he and I are preparing to get ready for that thing. Because if you really let us go whether it's an MMA fight or a pro wrestling match. People wanna see us in an MMA match, people wanna see us in a wrestling match. I'll Box, I'll kickbox, I'm up for it and I like challenges, and right now Brock is the challenge. Brock is a challenge in wrestling, Brock is the challenge in MMA."
As Lashley mentioned, Brock Lesnar is certainly the challenge. Currently, no superstar in the WWE can match the physical acumen or the popularity of the Beast.
Brock Lesnar has accomplished everything in whichever company he stepped in. Fighting the beast in the main event can be counted on par with a title match.
ADVERTISEMENT
Article continues below this ad
Coming back to The Almighty, he was money since day one of his first stint in the WWE. Unfortunately, Lashley could never fulfill that potential every fan knows he possesses.
Bobby Lashley facing probably the biggest superstar of WWE can certainly be huge. If this match goes on to happen, it is most likely that Brock Lesnar will go over.
However, this can just be that small spark for Lashley to fulfill his potential and take his career to the next level.
ADVERTISEMENT
Article continues below this ad