Booker T Gives Verdict on WWE Inviting Logan Paul to WrestleMania
Published 04/04/2021, 8:00 AM EDT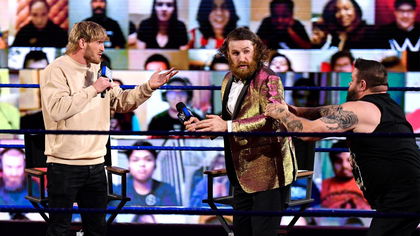 ---
---
Initially, WWE announced Bad Bunny as their celebrity guest at WrestleMania 37. However, after recent happenings, YouTube sensation Logan Paul also is coming to WrestleMania. WWE Hall of Famer Booker T weighed in on this on his latest podcast.
ADVERTISEMENT
Article continues below this ad
The inclusion of celebrities in WrestleMania is nothing new. From the likes of Cyndi Lauper to Kim Kardashian and even former United States President Donald Trump, glamour and sports entertainment have often collaborated successfully.
In his latest Reality of Wrestling podcast, Booker T and Brad Gilmore speculated on why he was a part of the "super bowl of wrestling."
ADVERTISEMENT
Article continues below this ad
"I'm down with it," said Booker T. "The rumor right now is he would be a part of the Owens-Zayn match. Maybe a special referee, a special enforcer. I don't know."
Booker also revealed who he would book against Logan.
"That's kind of hard. Because, Logan Paul, Jake Paul, those guys have been fighting from a realistic perspective. It didn't get any real than boxing.
"If the guy came in, he was serious about it and he trained and if I had to put him in there with someone… it would be someone like Randy Orton. Someone who can guide him and make him look good. Somebody that matches up pretty good with him," Booker concluded.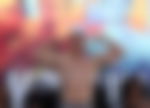 Logan has fought KSI on two occasions and is scheduled to face Floyd Mayweather Junior. His younger brother Jake has fought and won two matches. And up next, he is scheduled to face Ben Askren.
Logan Paul will be there at WrestleMania following an invitation from Sami Zayn
On the last SmackDown, Logan made his WWE debut. Prior to the trailer for Sami Zayn's conspiracy documentary being unveiled, Zayn asked Paul if he would be on his side at WrestleMania.
After Paul agreed, and the trailer was played, all hell broke loose. Paul revealed Kevin Owens had approached him earlier, and this did not sit well with Zayn. Soon after, Owens attacked Sami and snubbed Logan off.
ADVERTISEMENT
Article continues below this ad
WWE caught up with Logan backstage and asked for his reaction. "Overwhelming. "You know, just a lot. Conspiracy theories in general, you always gotta think twice about what to believe," Paul said. "I don't know if I'm fully on board with all the things he's saying, but I'm here to listen. But you know, the more I'm realizing who Sami is, I have some doubts."
However, he proclaimed, "I will be at WrestleMania for sure. I don't want to, you know, dent the invite. I am skeptical." His role has not been revealed yet.
As of now, WWE will book one celebrity for each night of WrestleMania. Bad Bunny will appear on the first night and Paul will be on the second to pull maximum audiences.
ADVERTISEMENT
Article continues below this ad