Braun Strowman Makes a Violent Prediction for his Match Against Shane McMahon at WrestleMania 37
Published 04/05/2021, 9:50 PM EDT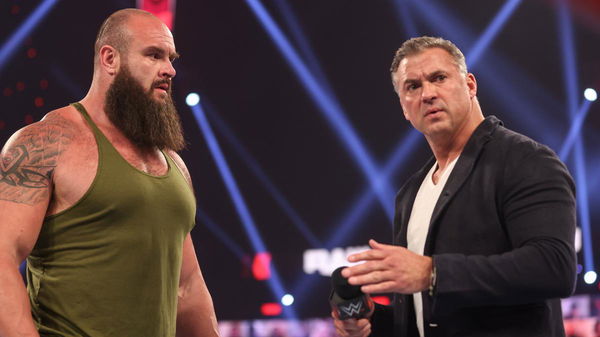 ---
---
At WrestleMania 37, Braun Strowman faces Shane McMahon in a steel cage match. The former commissioner of SmackDown picked on Strowman and called him stupid constantly. The short-tempered Monster wanted to get his hands on Shane and made a violent prediction before their upcoming clash.
ADVERTISEMENT
Article continues below this ad
Braun Strowman promises to destroy Shane McMahon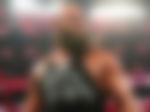 ADVERTISEMENT
Article continues below this ad
On Raw, the Monster Among Men walked out and cut a promo on what this WrestleMania match meant to him. The steel cage surrounded the ring, reminding viewers of the dangerous environment McMahon will enter on Saturday.
Strowman claimed he would show the world how to deal with a man like Shane O Mac. He then claimed he will not beat McMahon for himself, but for everyone on this planet who has ever been called stupid.
He said, "I'm not just gonna whoop your ass for me, I'm going to whoop your ass for every person on the planet who has ever been called "stupid."
Braun claimed when their match ends at WrestleMania, Shane won't hear his theme song playing. Instead, he'll hear the ambulance siren which he will require after Strowman destroys him inside the steel cage.
After Braun finished with his passionate tirade, Shane McMahon walked out and insulted Braun once more. He promised to outwit Braun at WrestleMania because he's a McMahon.
He then claimed Braun's going to wake up the day after WrestleMania thinking, 'Oh boy, I am stupid.'
After McMahon's promo, Elias and Jaxon Ryker walked out to face Strowman in a two-on-one handicap. Like feeding sheep to a T-Rex, Braun plowed through the jobbers to register a dominating win before his WrestleMania match.
Why does this feud disappoint?
As a wise man said once:
WHO BOOKED THIS CRAP?:??????

— Ricardo Figueroa (@figasoficial) April 6, 2021
"I'm fighting for all the stupid people out there"

lmao wtf am I watching

— Vamsi Nagireddi (@BobClose13) April 6, 2021
ADVERTISEMENT
Article continues below this ad
At WrestleMania X8, Edge and Booker T feuded over a bottle of shampoo, which fans claimed was the worst booked WrestleMania match of all time. To be completely honest. Shane McMahon vs Braun Strowman's booking makes that match look like Triple H vs The Undertaker.
That Shane McMahon wants to continue wrestling at 51 should baffle any wrestling fan. While wrestling at 51 might be more fashionable now, facing Braun Strowman is a very 'stupid' idea. This is only Braun's second singles match at WrestleMania in his six-year WWE career.
ADVERTISEMENT
Article continues below this ad
He's gone from facing Goldberg for the Universal Title to facing an authority figure no one cares about simply because he called him 'stupid'. One can only hope Strowman destroys McMahon at WrestleMania, as that's the only acceptable outcome. The sooner he moves on from this feud, the better.