"Brock is All About Money"- Kurt Angle Opens Up on Brock Lesnar's True Nature Towards Wrestling
Published 05/06/2021, 9:15 AM EDT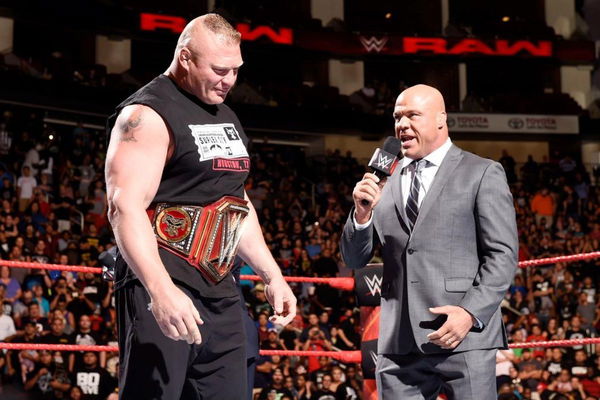 ---
---
Brock Lesnar and Kurt Angle shared a magnificent rivalry in 2003. Two former NCAA Champions put on the best wrestling matches in WWE history before one of them left for greener pastures. Few people know that Lesnar and Angle crossed paths later on as well in New Japan Pro Wrestling.
ADVERTISEMENT
Article continues below this ad
Kurt Angle reveals Brock Lesnar's true nature towards wrestling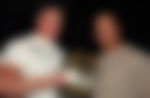 Brock Lesnar left WWE in 2004 to pursue a career in the National Football League. Unfortunately, a motorcycle accident left him injured for most of the season and the Minnesota Vikings dropped him within a year. His passion for wrestling remained, but he took his trade to NJPW.
ADVERTISEMENT
Article continues below this ad
In his debut match, Lesnar beat Kazuyuki Fujita and Japanese wrestling legend Masahiro Chono for the IWGP Heavyweight Championship. Lesnar registered many defenses, including one against current WWE superstar Shinsuke Nakamura. However, the man to beat him for the title was his former WWE rival.
On the Kurt Angle Show, the former WWE Champion revealed how Lesnar's run in NJPW showed the world his true nature towards wrestling.
"So he brought me over, right, and did the job for me, and then he wanted to have the rematch because he wanted to make more money. Brock is all about money, and he is a very stern businessman. Everything is revolved around money for him. It's money first, passion, second."
Lesnar wanted a match with Angle only for the money
After Lesnar dropped the IWGP Heavyweight Championship to Angle in his last wrestling match in 2012, he discussed a potential rematch with Angle.
ADVERTISEMENT
Article continues below this ad
"You know, Brock, after the match, Brock said, 'Hey, when we do the press conference' because they always have huge press conferences before and after the matches. And he said, 'When you have the press conference, and we are sitting up there in front of the press, tell them you want a rematch with me."
"Well, I didn't know at the time, but I heard Brock was making a ton of money on these matches. He was a remaining champion as long as he could, and then they wanted to take the title off of him. So, he wanted to do the match, but he wouldn't do it with just anybody. So, he told New Japan, 'Bring Kurt Angle over; I'll do the job for him.'"
Despite Lesnar asking, Angle did not have a rematch with him and dropped the title to Shinsuke Nakamura in 2008.
ADVERTISEMENT
Article continues below this ad