Brock Lesnar Drops the Mic on Bobby Lashley: "I Don't Even Fear Death"
Published 01/10/2022, 11:13 PM EST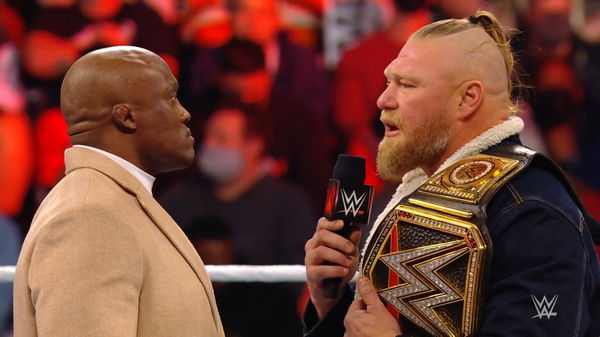 This week's edition of Monday Night Raw aired from the Wells Fargo Center in Philadelphia and kicked off with none other than 'The Beast' Brock Lesnar addressing the crowd.
Since Lesnar is a free agent in WWE, he can appear on SmackDown or Raw whenever he chooses. Raw began with a video package of how Bobby Lashley won the match last week to become the number one contender to Brock's WWE title at the Royal Rumble PPV.
ADVERTISEMENT
Article continues below this ad
However, when both the men got face-to-face tonight, it was Brock who won the verbal battle. With little to no help from Paul Heyman, Lesnar performed a 'mic drop' on the former WWE Champion and left Lashley agitated in the ring.
Brock Lesnar and Bobby Lashley didn't hold back their thoughts
Lesnar entered the ring with a big smile on his face and showed off his newly won gold. Lesnar's advocate Paul Heyman took the microphone and hyped up the Philadelphia crowd for 'The Beast'.
However, the duo was soon interrupted by 'The Almighty' Bobby Lashley alongside MVP. The former WWE champ made his way into the ring and had some thoughts about Lesnar that he wanted to share.
Lashley noted that for over 20 years, Lesnar has been ducking him because he feared what Lashley could do to him.
"For twenty years, YOU have been ducking and running from me," he said.
Eventually, Lesnar wasted no time and told Lashley it's not his fault. 'The Beast' said that for over 20 years he has been winning championships in the WWE ring and also in the rings, indicating his run in Japan and his successful UFC career.
Lesnar further added that it's Lashley's fault that he is not in the same league as him.
Furthermore, 'The Beast' surprised everyone and did a 'knock-knock' joke on Lashley. Lesnar called Heyman and belittled 'The Almighty' with his knock-knock joke while the WWE Universe enjoyed every bit of it.
In the end, Brock looked Lashley in the eye and told him that he doesn't scare him. He said, "I don't even fear death."
ADVERTISEMENT
Article continues below this ad
"It's impossible to beat Brock Lesnar, and it's even more impossible to beat Brock Lesnar when you're a Brock Lesnar wannabe!"
ADVERTISEMENT
Article continues below this ad
Things are getting interesting between Lesnar and Lashley, and it looks like the match at the Royal Rumble PPV will be the one to watch.