Brock Lesnar May Have Broken the Streak, But Does That Make Him Better Than Undertaker?
Published 12/29/2020, 11:42 AM EST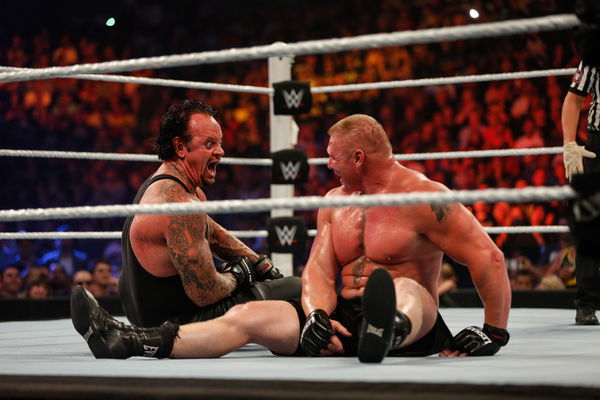 ---
---
On April 6, 2014, Brock Lesnar shocked the entire world by breaking the Undertaker's streak. No one expected Lesnar to pose the slightest threat to the legendary Streak, but three F5s later, people's expectations and faces sank. The collective shock on the faces of 75,000 people when Undertaker did not kick out of the third F5 was chilling. It genuinely was a moment that people will remember for years to come.
ADVERTISEMENT
Article continues below this ad
Lesnar's monumental victory sparked the obvious question: Does this make him better than the Undertaker?
Is Brock Lesnar better than The Undertaker?
ADVERTISEMENT
Article continues below this ad
The Deadman has been wrestling in WWE for thirty long years. During his lengthy career, Taker has won World Championships, won the Royal Rumble, and main evented WrestleMania. His resume is the most perfect in all of professional wrestling. His 21-0 undefeated Streak at WrestleMania will probably never recur.
Enter Brock Lesnar, 285 pounds and 6'3 of brute force and inhumane strength. Brock Lesnar is the closest the WWE has come to having an actual demigod wrestle in front of fans. Lesnar was a collegiate athlete, winning the NCAA Championship at 23. Once Vince McMahon peeked at him, he signed him to the WWE immediately.
Debuting in 2002, Lesnar had a rocket strapped to his back as soon as he walked into the company. He won the WWE Championship from the Rock at SummerSlam 2002. Winning the WWE Championship in his first few months in WWE was a significant accomplishment, but he would not stop there. Lesnar won the 2003 Royal Rumble and went on to main event WrestleMania 19.
Undertaker too had a similar start to his career. He won the WWF Championship from Hulk Hogan merely a year after he debuted. Taker slowly started becoming a fan favorite because of his supernatural antics. He main-evented his first WrestleMania in 1997, where he beat Sid Vicious for the WWF Championship.
By analyzing the beginning of their careers, it is hard to assess which superstar is better. Fortunately, Taker and Lesnar have crossed paths in WWE, and a head-to-head record might just help get to an inference.
Lesnar vs Taker: Head to Head Record
Taker and Lesnar first met in 2002 at the Unforgiven PPV. They fought to a double disqualification, which left the fans severely underwhelmed. Fortunately, they would right the wrongs of their previous match at No Mercy. This time, they faced off inside Hell in a Cell. Taker and Lesnar took each other to hell, but it was the Beast Incarnate who crawled out of hell and escaped with the WWE Title.
The two would clash in 2003 once again, and their match had a bizarre stipulation. Taker and Lesnar fought in a Bike Chain match, which ended with Vince McMahon screwing the American Badass out of a title win. Tainted, but another win in Lesnar's column. It would be eleven long years before Taker and Lesnar met again.
At WrestleMania 30, Brock did the impossible by breaking the Streak. Taker sought revenge but did not strike till July 2015. Undertaker interrupted Brock Lesnar's match against Seth Rollins, costing him a chance to win the WWE World Heavyweight Championship. Incensed by this, Paul Heyman challenged Taker to a WrestleMania rematch at SummerSlam.
In Brooklyn, controversy reigned as the timekeeper saw Taker tap out to the Kimura Lock. The referee tried to get the match restarted, and with Brock distracted, Taker delivered a low blow to the Beast. Hell's Gate followed, and the defiant Beast fainted in the deadly submission hold.
ADVERTISEMENT
Article continues below this ad
Lesnar would return the favor two months later at Hell in a Cell. A low blow followed by an F5 on wooden floorboards ended the brutal rivalry between Lesnar and Taker. With four wins in six matches, Lesnar dominates Undertaker in head-to-head competition. Unfortunately for Brock's fans, that does not make him the superior wrestler.
Why is Undertaker better than Brock Lesnar?
ADVERTISEMENT
Article continues below this ad
The legacy of a superstar defines his or her value as a wrestler. With 25 wins at WrestleMania, multiple World Championships, and the respect of the entire locker room, Undertaker has tailored an immaculate legacy. Lesnar is not the most popular wrestler in the world by a longshot. Yes, fans love him for being merciless, but his legacy is not as powerful as the Deadman's.