Brock Lesnar or Roman Reigns: Which WWE Megastar Had the Better NFL Career
Published 10/17/2021, 12:33 PM EDT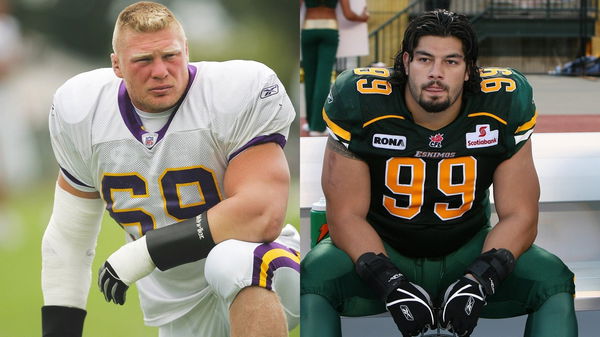 Roman Reigns and Brock Lesnar are two of the biggest stars in WWE. But both superstars are not only passionate about wrestling but also about football. Both of them wanted to be professional football players and also enjoyed stints in the NFL.
ADVERTISEMENT
Article continues below this ad
Both Reigns and Lesnar have been very successful in their WWE career, winning several championships and setting records. However, the same cannot be said about either man's NFL career.

Let's look at the football career of these two huge WWE superstars and their attempts in the NFL.
ADVERTISEMENT
Article continues below this ad
Brock Lesnar's NFL stint in
Brock Lesnar had a very sincere interest in football since childhood. Lesnar even dreamt of becoming a professional football player back in his high school days.
After his match with Goldberg at WrestleMania XX in 2004, Lesnar put his wrestling career on hold as he wished to pursue his childhood dream of playing in the National Football League. WWE even issued a statement on their official website about this as they wished Lesnar good luck.
Lesnar impressed everyone with some amazing numbers during the NFL Draft Combine. 40-yard dash: 4.7 seconds, Vertical jump: 35 inches, Broad jump: 10 feet and 225lb bench press: 30 reps. Just as it looked like
Brock Lesnar
will finally make it to the NFL, he met with an unfortunate event.
The WWE superstar met with an accident and suffered a broken jaw and left hand, a bruised pelvis and a pulled groin. But Lesnar's will to fulfill his childhood dream made earned him a place in the Minnesota Vikings for the pre-season games.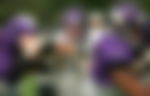 Lesnar played defensive tackle for The Vikings in many pre-season games, but the injuries he suffered in the accident earlier played a big part in his downfall.
The injuries seemed to affect him a lot. Unfortunately, he did not make it to the regular season as Vikings released him soon after the pre-season.
Watch This Story: Brock Lesnar Stuns Roman Reigns, Sasha Banks Beats Becky Lynch: Best Moments from WWE SmackDown (Oct. 15, 2021)
Roman Reigns' NFL career
Roman Reigns was a professional football player before he made his entry into professional wrestling. The current WWE Universal Champion played for Pensacola Catholic High School for three years. Later, he spent another year playing high school football at Escambia High School.
The WWE superstar played as a defensive tackle and had a few achievements to his name as well. The Pensacola News Journal named Reigns Defensive Player of the Year while playing in his senior year.
Roman Reigns also played for the Georgia Tech Yellow Jackets football team along with Calvin Johnson. Roman had some impressive stats over there as well.
Roman Reigns was named in the first-team All-Atlantic Coast Conference (ACC) in 2006 and recorded 40 tackles, two recovered fumbles, and 4.5 sacks.
Reigns went undrafted in the 2007 NFL Draft, but the Minnesota Vikings signed him in May 2007. But unfortunately for Reigns, he got released as he was diagnosed with leukemia after his team physical.
He then went on to sign with the Jacksonville Jaguars but unfortunately was released before the 2007 NFL season.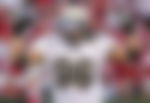 In 2008, he signed with Edmonton Eskimos of the Canadian Football League. Reigns played five games sporting #99 on his jersey. He even made three starts out of five games.
However, this too wasn't a fruitful season as the Eskimos released him the next season. Soon after, he announced his retirement from football and made his way to professional wrestling.
ADVERTISEMENT
Article continues below this ad
Who was more successful in NFL: Reigns or Lesnar?
When we consider both Reigns and Lesnar's NFL careers, it's certain that neither men could reach the heights of the sport.
While it would be easy to consider Roman Reigns having a better NFL career because of his resume, we must not forget that Lesnar began his football career after some serious injuries.
ADVERTISEMENT
Article continues below this ad
One can only imagine what the scenario would've been like had Brock Lesnar never suffered that injury. However, at this time, it would be unfair to call Reigns a more successful than the 'Beast.'