Bruce Prichard Reveals Why John Cena and Batista Became the Face of WWE
Published 06/27/2020, 9:01 PM CDT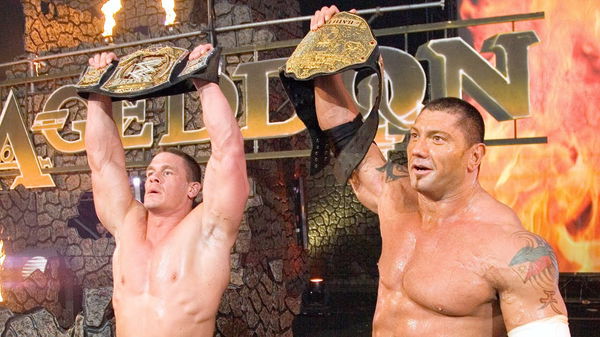 ---
---
WWE has their own way of doing things. For instance, they tend to fail to cash in on Superstars with potential and rather focus on others who can sell gimmicks and reach out to more people.
ADVERTISEMENT
Article continues below this ad
They have done this countless times and a WWE Executive had similar opinions while talking about the company.
Bruce Prichard was on the Something To Wrestle Podcast where he addressed two WWE Superstars, John Cena and Dave Batista.
ADVERTISEMENT
Article continues below this ad
Bruce Prichard is the Senior Vice President of WWE and the Executive Director of both RAW and SmackDown. He took over RAW after Vince McMahon removed Paul Heyman from his position. 
Bruce Prichard on WWE pushing John Cena & Batista
WWE Chairman Vince McMahon always prioritized Superstars who had the physique and skills to make people talk about them.
It is no secret that John Cena's push came because of that very reason. Prichard talked about Cena and former WWE Superstar Batista in particular. 
After the attitude era, WWE struggled to bring in newer content. They had tried everything out to eliminate their competition; namely WCW and ECW. 
The company looked to experiment further and Bruce Prichard explains how.
"The attitude with WWE right now towards both Batista and Cena is that they are not measured against The Rock, Steve Austin or even Shawn Michaels or Bret Hart when they were all top babyface champions.
"Vince McMahon has made it clear to the internal critics that Cena and Batista are there because of the lack of fresher more ready options in his view.
"And thus, it's expected that they will all make mistakes or not get pops compared to Austin or Rock at their peaks," Bruce Prichard said.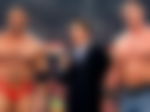 Both John Cena and Batista were given a huge push, making them Champions, one after the other. Cena went on to have a bigger legacy, whereas Batista left the company at one point. 
Bruce Prichard also added an interesting comment from an unnamed WWE insider. 
The insider was of the opinion that neither John Cena nor Batista are at the same level as the Superstars that WWE once boasted of. 
"Neither of them is better than mid carders by the standards of 15 or 20 years ago, but they have varying levels of charisma and marketable look," says one WWE insider.
What made WWE push them?
Prichard added that while Cena is stronger on the mic, Batista is a top-level draw who happens to be weak on the mic.
He was also of the opinion that Batista was pushed to the top spot prematurely, while there are many deserving superstars who were put in comedic gimmicks.
WWE tried to transition to some new heights. They had tried different options; turning Steve Austin heel, pushing both Brock Lesnar and Kurt Angle and bringing in a storyline with Eddie Guerrero and Chris Benoit. 
In an effort to find the next Hulk Hogan or Steve Austin, they settled with Cena and Batista because of their attitude and personality. 
"They both look good. They both spoke well and they had enough charisma that the audience was going to care about them and they may not love them and cheer them like "Oh my God! Here's my f****** hero, but they would care; one way or the other. Both John Cena and Dave Bautista fit that bill," Bruce Prichard said.
ADVERTISEMENT
Article continues below this ad
WWE has changed their perception a bit recently. They have been listening to the fans more often and delivering content that both parties benefit from.
Cena and Batista did grow out to have a huge fan base. There might be a strong number of people who are divided about the Superstars.
However, they have cemented their mark in the company over the years.
ADVERTISEMENT
Article continues below this ad