"Go All the Way"- WWE Hall Of Famer Severely Criticises Retribution's Storyline
Published 08/18/2020, 8:10 AM EDT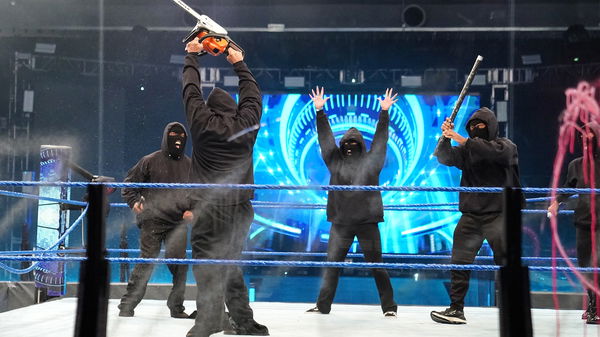 ---
---
Retribution has invoked a lot of fan responses. These notorious masked characters are raiding WWE episodes and leaving destruction in their wake. The identity of these Superstars is unknown which makes fans all the more active in uncovering clues. However, through all the rush, Bully Ray (Bubba Ray Dudley) isn't satisfied with Retribution at all.
ADVERTISEMENT
Article continues below this ad
In a recent interview on SiriusXM Busted Open, the WWE Hall Of Famer mentioned a lot of things that he would improve in Retribution's straightforward storyline.
ADVERTISEMENT
Article continues below this ad
"The reveal has to be off the charts. If the reveal is not off the charts, Retribution is dead in the water and every single one of those people under those hoods has to mean something," explains Ray.
The former WWE Tag Team Champion feels that WWE went the right way but keep falling short of the target. He feels that Retribution needs to be sold a lot more.
"You know when they came here with the chainsaw and cut the ropes? Why'd they stop there? They should've cut all the ropes, they should've cut the ties of the mat, they should've ripped the ring mat completely off, they should've taken every board off the ring, they should've started popping out all the steel, they should've destroyed the whole ring," says Ray.
Bully Ray feels that Retribution need to sell it better
"You ever see an entire ring get destroyed on national television? If you're gonna do it, do it. Go all the way!"
ADVERTISEMENT
Article continues below this ad
Bully Raw admits that he would do a whole lot better if it was in his hands. He maintains that Retribution needs to establish its characters and intentions as a faction.
"You know what I would've had these people spray painting on the walls? Don't spray paint WWE with an 'X' through it, that's cliche," explains Ray. "I would have them spray paint the letters 'CHNFY' you know what that stands for? 'Creative has nothing for you'. That's the line that they use right? Well if creative has nothing for us, we're going to make something for us, there's your story!"
ADVERTISEMENT
Article continues below this ad
Bull Ray certainly has a point in his argument. If Retribution is to reach anywhere near the heights of Nexus, they need to stand out and make a clear intention. The cohesiveness of their group can be portrayed well, and the vibe can go a lot deeper than vandalism.
We are yet to see what's next for this faction as they continue to conduct raids on Raw and SmackDown. Is NXT next? We don't know, but you really can't say with this group.