Can UFC Legend Conor McGregor Transition Into the WWE?
Published 01/25/2021, 12:43 AM EST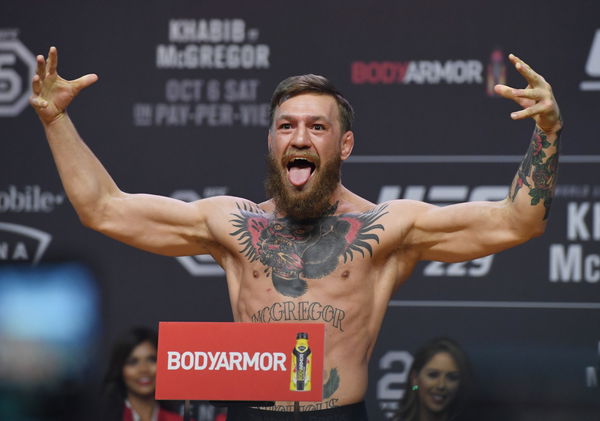 ---
---
At UFC 257, Conor McGregor suffered the most devastating loss of his career. Dustin Poirier humbled the Irish MMA superstar and has cost him a shot at the UFC Lightweight Championship.
ADVERTISEMENT
Article continues below this ad
McGregor is now thirty-two, which means he's at the last legs of his decorated career. He could not keep up with younger talent like Khabib and now Poirier, and maybe, he needs a change.
Will Conor McGregor be successful in WWE?
ADVERTISEMENT
Article continues below this ad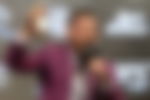 The WWE would receive Conor McGregor with open arms. He would join the list of former UFC fighters who became wrestlers, from Ken Shamrock and Brock Lesnar to Shayna Baszler.
His joining the WWE would be monumental, but would he adapt well in Vince McMahon's kingdom?
People with similar egos and attitudes would surround the Irish superstar in the WWE. First up is Vince McMahon himself. Both McGregor and McMahon have incredibly powerful personalities, which seem bound to clash at some point. If they end up butting heads, will the CEO prevail or the former face of the MMA Universe?
I didn't mean no disrespect to the @wwe fans. What I meant to say was that I'd slap the head off your entire roster. And twice on Sunday's.

— Conor McGregor (@TheNotoriousMMA) August 7, 2016
Second, Conor McGregor has been wildly disrespectful towards WWE Superstars in the past. In a tweet, McGregor mentioned he could 'slap the heads off the WWE roster', which led to some WWE superstars firing back at McGregor.
If McGregor finds his footing in WWE, it would take a miracle for him to assimilate with the rest of the WWE locker room.
Can McGregor's stature hinder a potential WWE run?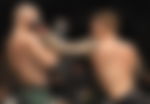 Conor McGregor weighs 155 pounds and is 5′ 9. The only WWE superstar of similar stature is Rey Mysterio, and he uses his size to his advantage.
McGregor is definitely not going to pull out head-scissors and moonsaults like Mysterio, and he would require a lot of training to become as smooth as the master of the 619.
ADVERTISEMENT
Article continues below this ad
Under the right trainer, McGregor can transition well. He would have to put on a lot of muscle, and his height is not as imposing as it seems. McGregor would need to put in a grueling couple of months to perfect his technical skills and wrestling prowess.
What Conor lacks is the passion for pro-wrestling, that Ronda Rousey, Brock Lesnar, Matt Riddle, and Shayna Baszler have. The Irishman has dissed the WWE frequently and has claimed repeatedly that he is much better than the WWE superstars.
ADVERTISEMENT
Article continues below this ad
Conor is at the perfect age to build his profile and make some money as a wrestler. However, his dismissive attitude, lack of passion and straight-up disrespect will prevent him from successfully transitioning to the WWE.