'Capt. Jack Needs His A** Whupped': Dwayne Johnson Did Not Have Johnny Depp's Back In 2011 After Being Beaten to the Punch By Jack Sparrow
Published 05/25/2022, 9:30 AM EDT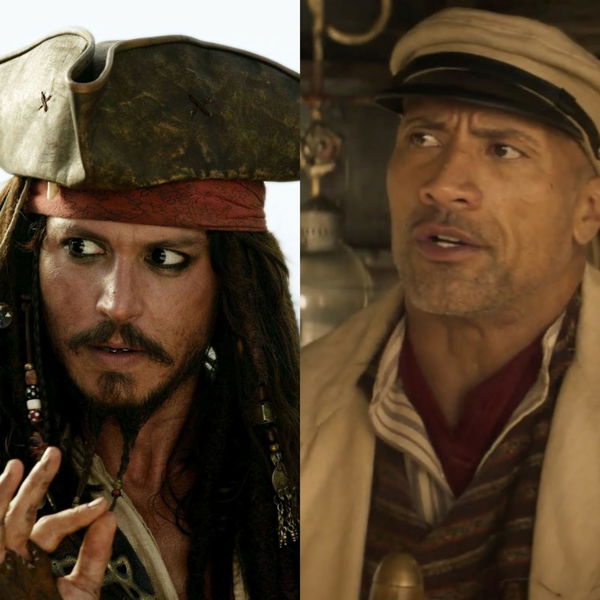 Dwayne Johnson is one of the megastars in Hollywood in the current generation. It took no time for the former WWE superstar to transition into a top action hero in the acting industry. Since 2002, his Hollywood stardom has kept on strengthening day by day.
Johnson has been part of multiple movie franchises, but he has always talked about being a part of one movie franchise in his career, which he hasn't done yet. The Jumanji actor wanted to be a part of Johnny Depp's Pirates of the Caribbean. 
ADVERTISEMENT
Article continues below this ad
In 2011 Dwayne Johnson's role as Lucas Hobbs in Fast Five was loved by the fans. This film was Johnson's first highest-grossing movie worldwide.
Fast Five won the Teen Choice Awards for Best Action Movie in 2011 and Johnson was over the moon at the time. He took a shot at actor Johnny Depp, who also won a Teen Choice Award for Choice Movie: Voice for the animated movie Rango and also for Choice Movie Actor: Action for the movie The Tourist.
Johnson shared a tweet saying, "Congrats to my bud Johnny Depp: Teen Choice Action Actor. Beating me again. #CaptJackNeedsHisAssWhupped"
It was a friendly shot taken by Dwayne Johnson on Johnny Depp. Johnson in 2011 had aspired to be a part of the Pirates of the Caribbean franchise or make a similar movie. Johnson thinks Depp's role as Captain Jack Sparrow is amazing and because of that, Johnny Depp is one step ahead of The Rock in Hollywood.
Does Dwayne Johnson still want to make a movie similar to Pirates of the Caribbean?
After 2011, Dwayne Johnson's Hollywood career went skyrocketing. The opportunity for major roles landed in front of him after that. He did an additional four movies in the Fast Saga which again were top-grossing. 
Other movies he did were the two movies of the Jumanji franchise and the Disney movie Moana. Last year, while promoting his second Disney movie 'The Jungle Cruise', Johnson shared his thoughts regarding Pirates of the Caribbean in a video he shared on Instagram.
ADVERTISEMENT
Article continues below this ad
 

View this post on Instagram

 
Johnson had seen Pirates of the Caribbean while he debuted in Hollywood through the movie Scorpion King. Since that day, Johnson wanted to make a film related to the subject of pirates. However, his role in The Jungle Cruise was somewhat similar role to a pirate. 
ADVERTISEMENT
Article continues below this ad
Watch this story:-  From Being An Ice Hockey Fan to Hunting : Brock Lesnars Favorite Hobbies Outside WWE
Dwayne Johnson thinks a pirate movie would be cool, and he got to play an adventurer in The Jungle Cruise. It does not seem clear if he will make a pirate movie after this. But never say never, as he might land a role in his career in the future where he will play an actual pirate that can stand toe to toe with the Pirates of the Caribbean franchise.