"Where the F**k Are the Judges?"- Angela Hill Livid After Controversial Decision Loss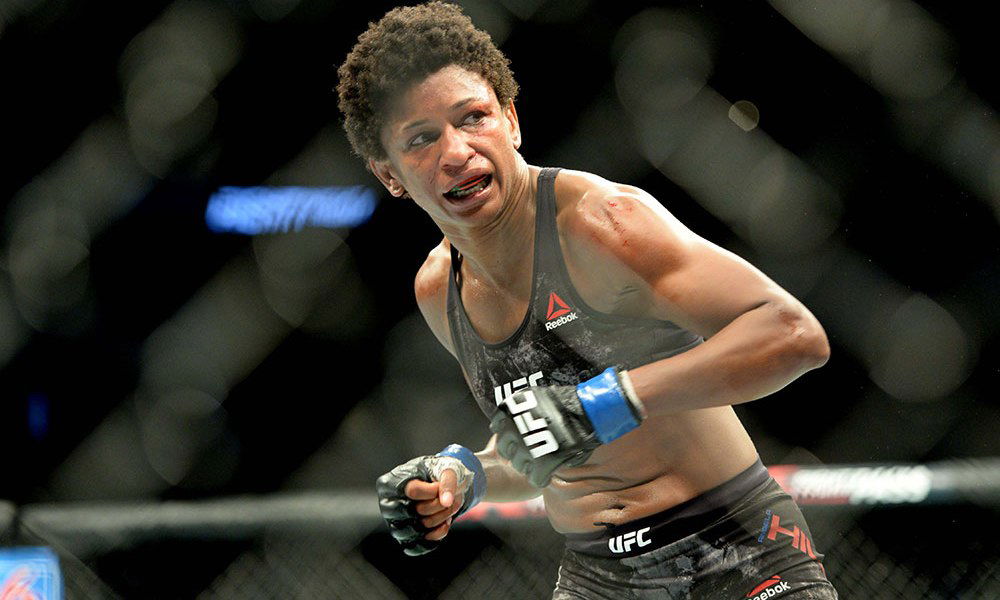 Losing a fight is undoubtedly one of the worst feelings in the world. However, what's worse is losing a fight that you thought you were winning. And that's exactly what happened to UFC Strawweight Angela Hill.
Her fight against Claudia Gadelha saw her go all out. Seemingly, everything went right for the American. Everything other than the final results.
The final bell left her almost certain that she would bag a win against her Brazilian opponent. However, it just wasn't her night, and she lost the decision to Gadelha.
Two of the judges scored the fight, to Hill's surprise, in favor of Gadelha. The results induced instant fury from Overkill, and her displeasure was rather discernible.
ON THE JAW! 👊 #UFCFL pic.twitter.com/dIid5nIwHY

— UFC (@ufc) May 17, 2020
You need not be a mind reader to decipher what Hill was feeling towards the end of the fight, considering how she was walking up and down the arena hoping to catch a glimpse of the judges and set the record straight.
"I said, 'F**k that.' I said it maybe five times, and I didn't know what to do. Was just pacing back and forth. I stormed out of the cage. I looked left and right because I was trying to see the f**king judges' faces and I was like, 'Where the f**k are the judges?' And they're like shoving me down that corridor so I'm not running around the empty arena screaming at people and throwing things," said Hill.
The decision cost Angela Hill a spot among the greats
The decision was harder for Hill because she was feeling ecstatic at having punished Gadelha and ensuring her victory. The Brazilian has been a long time contender at the 115-pound level.
She took on Joanna Jedrzejczyk with the title hanging in balance. However, she failed to overcome the Polish titleholder, losing to her via unanimous decision.
Gadelha has tasted defeat only at the hands of the very best, including those of Jedrzejczyk (twice), Nina Ansaroff, and Jessica Andrade.
"For five minutes, while I'm waiting for the judges to tally up their little scores—they probably had a calculator for it because they're f**king stupid—while I'm waiting five minutes for the judges to tally up everything, I'm just like, 'Man, I just whipped Claudia Gadelha's ass.' Everyone saw that. Co-main event. This is the biggest fight of my career," said Hill.
A win over Gadelha would have placed Hill at the top alongside the greats. It could have given her the break that she needed. This loss will certainly cause a series of problems sometime down the line. Was it her fault or the judges? We may never know.
What do you think?
Continue the conversation on the app, join other MMA fans on MMA Fans App