Where is Former WWE Divas Champion AJ Lee and What is She up to?
Published 08/14/2020, 11:46 AM EDT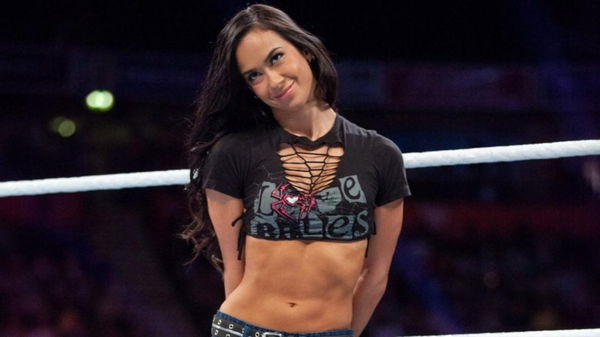 The world is always talking about the great CM Punk and what he's up to. The former WWE Superstar is always in the news one way or another. However, no one talks about his wife, and once the best wrestler in WWE's Women's division, AJ Lee.
ADVERTISEMENT
Article continues below this ad
AJ, who I'm sure most of you recall, had the toughest time in WWE in her early years. She had to take the heat from nearly every Superstar, twice by the dominant Beth Phoenix. She even managed to beat "The Glamazon" once but Vickie Guerrero who was the General Manager of Raw then took the moment away from her.
ADVERTISEMENT
Article continues below this ad
AJ needed a break, and finally got one when she changed her persona completely. She returned to the main roster much more refined and with a new skill-set. She was quickly able to settle rivalries with her infamous submission maneuver- the Black Widow. 
AJ ignited a feud with Kaitlyn, who was the WWE Divas Champion back then and more importantly AJ's close friend. Managing to complete the betrayal by winning the Divas Championship, AJ went on to hold the belt for a magnificent 295 days.
This reign broke the previous records by far, and the 5'2" AJ Lee was the most dominant Superstars in the Women's division.
However, Paige then came along and managed to beat and take AJ's belt on her debut match on the main roster! AJ would go on to have a heated feud with Paige, during which she became the Champion twice more.
Shortly after this feud and a few isolated appearances, the quirky AJ left WWE, not to be seen again. We only see her now through her social media accounts. It's unfortunate that a woman of her talents never got to be part of WWE's major evolution of the Women's Division. 
AJ Lee has a colorful life away from the ring
Behind the character, AJ Lee is April Mendez, who isn't totally different than the one we see on TV. She is a huge fan of video games, anime, and comic books. 
ADVERTISEMENT
Article continues below this ad
She married CM Punk on June 13, 2014, following a build of their relationship during their pairing in WWE. AJ now spends her time dedicated to helping society.
She serves as an advocate for animal welfare and mental health awareness and also serves as the ambassador for ASPCA (American Society for the Prevention of Cruelty to Animals), NAMI (National Alliance of Mental Illness), snd many others.
ADVERTISEMENT
Article continues below this ad
WWE still means a lot to AJ, who has the date of her first WWE Champion win tattooed on the back of her neck. She and Punk live happily in their residence in Chicago, and many fans want her to return to the ring. 
If she does want to return, she would bring a lot more punch to the already lively Women's Division of WWE. Perhaps she'll return to take what's rightfully hers.