AEW Superstar Jumps Off The Balcony To Make A Statement
Published 06/09/2020, 9:41 AM EDT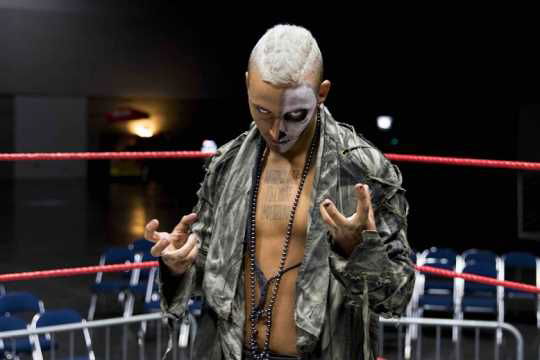 Darby Allin is undoubtedly a controversial figure. However, he has found the perfect blend of attitude and costume, which makes the fans love him.
ADVERTISEMENT
Article continues below this ad
Allin reminds us of an early CM Punk, with all the attitude and the moves to pay the bills. His ambition is what defines him.
"The Invisible Man" has considerably boosted AEW's ratings. He may well be looking at being the face of AEW. He certainly is a major selling point.
ADVERTISEMENT
Article continues below this ad
Always delivering on what he talks about, Darby Allin is always exciting to watch. This time, however, the odds were not in his favor.
After the Inner Circle removed Jon Moxley from the equation, Allin wanted Chris Jericho and Sammy Guevara all for himself. He wanted to settle the dispute personally. This led to a handicap match in which Jericho and Guevara laid waste to Allin.
Heroically, Allin endured and fought through. Finally gaining momentum in the match, Allin attempted to take Jericho out outside the ring. 
Building up speed he jumped under the top rope only to be caught by Jericho's Judas Effect. The blow hit him on the right side of his skull.
Darby Allin won't let the injury stop him
Allin was not fine after that and had to be rushed to the hospital. Jericho and Guevara had gotten away, for the night. It was clear that Allin had taken it too far.
You'd think that Darby Allin would be out of action for a while considering the nature of the injury he suffered, but you'd be wrong. 
A recent post on Twitter saw Allin jumping off a one or two-floor high balcony into a swimming pool. Given his injury, the impact of landing on the water could have been disastrous.
ADVERTISEMENT
Article continues below this ad
Allin wanted to prove a point. In the post, he mentions that the doesn't need a doctor's note to jump off a balcony.
This indicates that Allin thinks he is ready to wrestle again and feels mentally and physically fine. However, we do know how much of a driven should Allin is. AEW may not take any risks.
ADVERTISEMENT
Article continues below this ad
Despite this little stunt, defying rules and jumping into a pool from a height, Darby Allin may be in for a long wait before he gets to vindicate himself against Jericho and Guevara.