Dennis Rodman Stunned the World Joining Hands With Hulk Hogan in the nWo
Published 07/08/2022, 12:30 PM EDT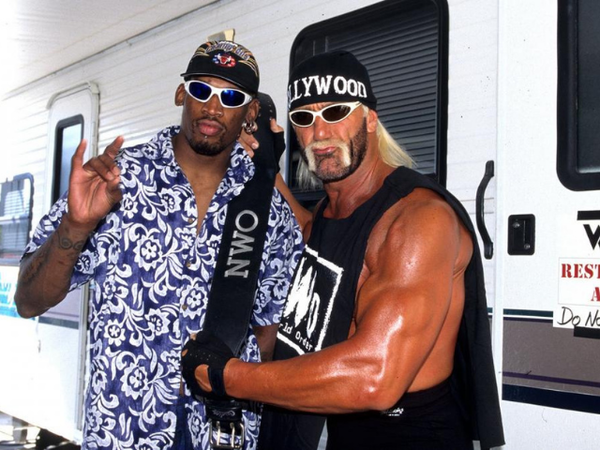 The nWo completed 26 years since being formed on July 7, 1996, at WCW Bash at the Beach PPV at the Ocean Center in Daytona Beach, Florida. It happened when Hulk Hogan came out in the ring as the mystery partner of Kevin Nash and Scott Hall.
ADVERTISEMENT
Article continues below this ad
The nWo was much bigger than WCW and it had created a craze not among the fans, but also among the celebrities. One of the celebrities was the former NBA star, Dennis Rodman.
ADVERTISEMENT
Article continues below this ad
Dennis Rodman was a huge Hulk Hogan fan and wanted to make a career in pro wrestling. Dennis Rodman debuted in WCW by joining the nWo and referred to himself as 'Rodzilla'.
Hogan introduced Rodman to Eric Bischoff, and he quickly signed the NBA star. Furthermore, in 1998, once Dennis Rodman missed the practice the day after Game 3 in order to fly to Michigan for a taping of WCW Nitro with Hogan. 
Dennis Rodman skipped a media session the day before Game 4 of the 98 NBA Finals and was fined $20,000.

He instead was paid $250,000, plus use of a private jet, to appear at a WCW show.

When he returned, his teammate Ron Harper said "I think that makes him a good businessman." pic.twitter.com/fK1hxZaQcH

— Darren Rovell (@darrenrovell) May 18, 2020
Rodman was in a kayfabe feud with NBA legend Karl Malone, who also made appearances in WCW. The former NBA star also skipped a media session before the NBA finals of 1998 to appear on WCW with Hogan. However, did not end up costing the Chicago Bulls as they won 4 games out of 6 games played in the 1998 Finals series against the Utah Jazz.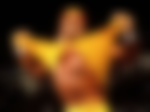 Bischoff, in his podcast, claimed that Rodman was a fan of 'The Hulkster' and joined WCW for the same reason. He also said Rodman just wanted to be in the ring and was not money-driven. However, for a two-year deal, Rodman made $1.6 Million which was more than many WCW wrestlers made.
Dennis Rodman rejected WWE's offer because Hulk Hogan was in WCW
Before Dennis Rodman signed with WCW, the then-rival competitor WWE had offered the NBA star a contract for a two-match deal. The deal Vince McMahon offered was around $1 million. Mr. McMahon had planned for Rodman to be a Tag-Team partner for Goldust for two matches.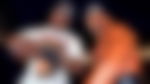 ADVERTISEMENT
Article continues below this ad
However, Rodman, a fan of Hulk Hogan, went to WCW and asked them if they can offer him a similar or a better deal. Rodman admired the business and knew what was best for him. Eventually, WCW could wrap the deal with Rodman and he appeared on WCW as a part of the nWo.
Dennis Rodman loved pro wrestling. He couldn't compete sooner because of his NBA contract. He came to WCW to fulfill his passion for pro wrestling once his NBA contract was over.
ADVERTISEMENT
Article continues below this ad
Rodman's most famous WCW match was him teaming with Hogan vs Diamond Dallas Page and Karl Malone at Bash at the Beach PPV in 1998.
Watch This Story:- Dwayne Johnson's Daughter Simone to The Undertaker's Daughter Kaia – Meet Daughters of Top WWE Stars