Details Behind the Death of WWE Legend Kamala Revealed
Published 08/10/2020, 1:29 PM EDT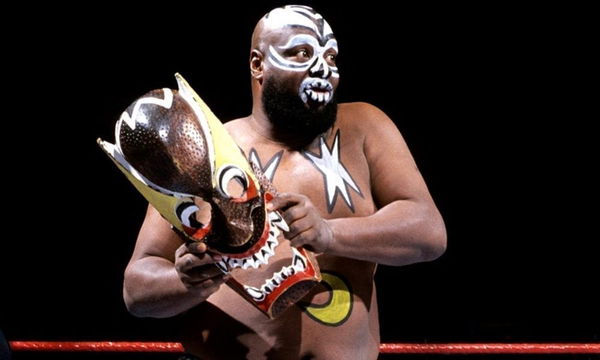 ---
---
There has been a shocking development in the news surrounding WWE legend Kamala. The former WWE Superstar was admitted to the hospital a day ago and was thought to be recovering.
ADVERTISEMENT
Article continues below this ad
However, in a recent post on Twitter, sports journalist Joshua King shared the tragic news that Kamala had passed away following a cardiac arrest this afternoon.
ADVERTISEMENT
Article continues below this ad
The news stunned veteran WWE fans that remember Kamala and his antics. This sudden death of his may have been a result of COVID-19. He tested positive for it earlier, the news of which was revealed.
You can find out exactly what the situation was as Joshua King shared it in the post attached below.
Kamala influenced the WWE wardrobe a lot
Kamala was definitely one of the best of the old-timers. Back when the WWE was still WWF and a growing brand, men like Kamala made it interesting. In fact, Kamala and his colleagues practically invented cool character costumes.
He himself sported a unique look which was the first of its kind to be seen in WWE. Wearing nothing but a loincloth and tribal art designs with an African mask, Kamala brought something new and interesting to the table.
Despite his simple nature, when it came down to business, it would be business for this man. Peculiarly armed with a spear and shield, he was given the nickname "The Ugandan Giant" for his massive physique and strength.
Kamala was also a selling point because apart from André the Giant, he was maybe one of the only other giants to be present. The 6'7″ behemoth surely was a spectacle to watch.
ADVERTISEMENT
Article continues below this ad
Life outside the ring sadly hadn't been the kindest to this lovable giant. He had to get his left leg amputated in 2011 following some problems with High blood pressure and diabetes. In 2012, his right leg had to be amputated below the knee as well.
ADVERTISEMENT
Article continues below this ad
The past decade had been a tough time for Kamala and he had to battle some pretty unfair odds. However, he always played the cards and dealt with them with optimism. No one will ever forget this one-of-a-kind Superstar who undoubtedly should be inducted into the Hall Of Fame one day.
 Source: Joshua King Twitter