DISAPPOINTED: WWE Fans React To The SHOCKING Ending to The Fiend vs Randy Orton at WrestleMania 37
Published 04/11/2021, 9:48 PM EDT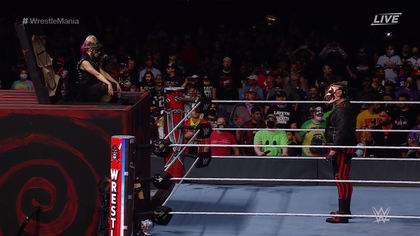 ---
---
Night 2 of WrestleMania had quite the opening. With the much-awaited match between the Fiend and Randy Orton starting the show, the controversial ending with Alexa Bliss surely raised some eyebrows.
ADVERTISEMENT
Article continues below this ad
To recap it all very quickly, The Fiend (now in his 'normal' attire) dominated Randy Orton till the last moment. However, following a 'Sister Abigail', Bliss, in an "anti-christ" avatar, appeared on top of the Jake-in-the-Box and distracted Fiend.
Randy Orton took advantage of the distraction and hit an RKO to secure the victory. However, as Orton left the ring, the Fiend and Bliss shared some supernatural connection and disappeared completely from the arena in the blink of an eye.
ADVERTISEMENT
Article continues below this ad
This led to some confusion for the fans, as most were not sure what happened in the match. WWE Universe started tweeting shortly after the match and "The Fiend" and "Randy Orton" trended on Twitter.
WWE Universe reacts to the controversial ending to The Fiend vs Randy Orton
As we mentioned earlier, the WWE Universe was quick to jump onto Twitter and share their fan theories. While many were disappointed with the "humanization of The Fiend," some tried to come up with a plausible explanation.
Utterly disappointed and visibly confused:
Someone help us understand @WWE 's continual shitty booking. You hype @WWEBrayWyatt up, months of build up and a hyped return , you make him look unstoppable and he comes back from being "burned alive" …… and then you have him get distracted an lose to ONE RKO…. ffs 🤦‍♂️ pic.twitter.com/vujTeleXtU

— David Bousquet (@Djbousquet) April 12, 2021
Some fans gave a plausible explanation, too. One fan wrote, "Sister Abigail has been reborn in Alexa Bliss and distracted The Fiend which cost him the match. Abigail is an angel, and The Fiend is a Demon, both trying to control Bray Wyatt. Although I would've liked a longer match, it's storytelling."
Others also proclaimed how Sister Abigail was resurrected in Bliss following Fiend's incineration at TLC 2020. As Fiend returned to his former self tonight, he also identified Abigail and responded to her "call," losing the match.
I figured out the whole Fiend match. Demon Bliss it was her time of the month and it shocked the Fiend he knows she's going to be in a right mood now #WrestleMania37

— ratedrodzgaming2020 (@RatedRG2020) April 12, 2021
ADVERTISEMENT
Article continues below this ad
While many believe WWE will break up Fiend and Bliss, that would certainly not be the case. The ambiguous ending kept future possibilities open. Maybe, The Fiend and Sister Abigail will unite and awake all the supernatural characters in WWE to form a stable of their own.
You can read about more such theories here. As of now, the fans have to look forward to the RAW following WrestleMania for some plausible explanation from WWE's side.
Let us know your thoughts regarding the match in the comments below.
ADVERTISEMENT
Article continues below this ad