Do WWE Superstars Use Real Steel Chairs During Matches?
Published 05/09/2021, 8:30 AM EDT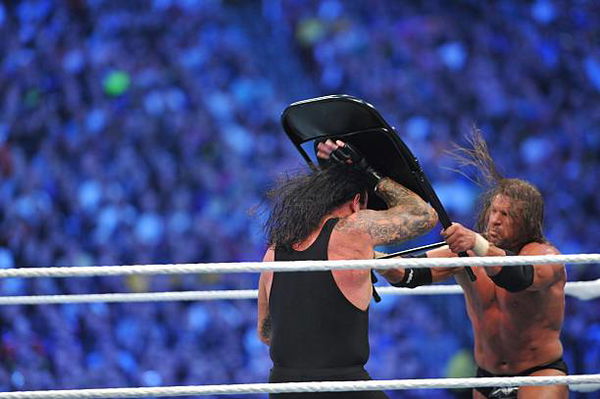 ---
---
Weapons have been an integral part of professional wrestling since time immemorial. During No Disqualification matches, TLC, Hell in a Cell, and Extreme Rules, we see weapons become an integral part of wrestling. Perhaps the most popular and commonly used weapon in WWE is the steel chair.
ADVERTISEMENT
Article continues below this ad
How real are WWE steel chairs?
ADVERTISEMENT
Article continues below this ad
Wrestlers have utilized the steel chair since the 50s and 60s before Vince McMahon merged the American pro wrestling market. It is the first of WWE's weapon triumvirate [TLC] and became synonymous with many wrestlers.
From legendary figures like 'Wild Bull' Curry to more popular hardcore wrestlers like Bruiser Brody, Dory Funk, and Abdullah the Butcher, the steel chair became an effective weapon. However, what is the current steel chair made of?
The steel chairs are actually made of a lighter metal, and not actually steel. Certain fan groups and wrestling experts criticized the WWE for calling them 'steel' chairs and misleading the WWE Universe. However, it's obvious that with lighter metal, the harm to wrestlers is much lesser.
The lightness of the metal prevents wrestlers from inflicting much harm on themselves and other talent. While it is misleading, it also protects wrestlers from brain damage and neurological issues.
What are the most dangerous weapons in wrestling?
ADVERTISEMENT
Article continues below this ad
Although the steel chair looks like relatively less dangerous weapon as compared to other weapons. The ladder became a dangerous weapon once Shawn Michaels and Razor Ramon used it to maim each other. It then became synonymous with prestigious title matches in WWE, especially the infamous TLC wars.
The WWE Universe's favourite weapon is the table. When a wrestler goes through a table, few people realise the physical damage is a lot lesser than landing on concrete. However, the fans absolutely love when a wrestler crashes through a table, and credit goes to the Dudley Boyz for making them so popular.
ADVERTISEMENT
Article continues below this ad
Triple H's sledgehammer, Sting's baseball bat, Jim Duggan's 2×4 and Undertaker's urn are signature weapons, but nothing poses as much danger as the steel chair. WWE has banned chair shots to the head as a part of their Wellness Policy. A risk of brain damage and CTE [chronic traumatic encephalopathy] isn't worth seeing man getting walloped in the head with a chair.