'Give Up Your Last Name': Fans Mercilessly Insult WWE Legend's Son For Ruining His Family's Legacy
Published 11/15/2022, 6:30 AM EST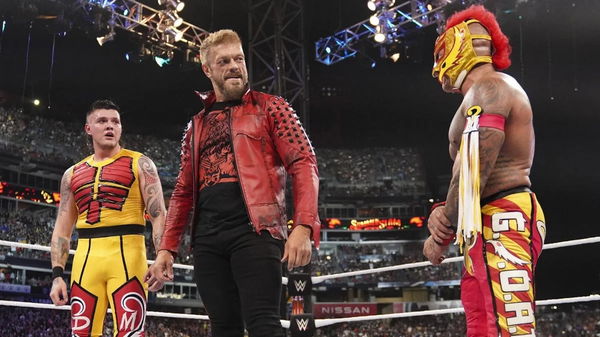 After turning on his father Rey Mysterio, Dominick Mysterio is on another ride in WWE. Mysterio shared the ring with a lot of top stars like Seth Rollins, Brock Lesnar, AJ Styles, etc. However, the 25-year-old WWE star took a shot at The Beast Incarnate's longtime close friend.
ADVERTISEMENT
Article continues below this ad
Dominick also took a dig at his father and the late Eddie Guerrero while insulting the WWE Veteran in the process.
ADVERTISEMENT
Article continues below this ad
On the recent episode of RAW, former Intercontinental Champion Shelton Benjamin had a match against Dominick Mysterio. Prior to their match, they had a backstage segment in which the former SmackDown tag team champion took a shot at Benjamin. 
He called himself better than 'Gold Standard', his father, and The Latino Heat. Dominick said, "I mean you've been a failure back since my deadbeat dad and Eddie Guerrero were in their primes. I'm better than them, so that makes me way better than you."
It was a shocking statement made by the former world champion's son in RAW. Moreover, Benjamin has had a bumpy career in WWE since the time he joined the company with Brock Lesnar in OVW.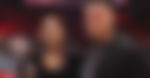 Therefore, these are serious comments that led to a match between Benjamin and Mysterio. The WWE veteran lost the match after Ripley and Priest, who were at ringside, interfered several times. Dominick picked up the win after connecting a Frog Splash followed by a pinfall.
WWE fans unhappy Dominick Mysterio insulting Shelton Benjamin on RAW
The Gold Standard is one of the memorable stars of WWE. He has given several moments that the fans still remember and want him to see on the top again. Hence, after the insult made by Dominick, fans who weren't happy shared their reactions on Twitter.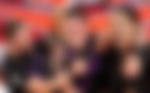 Not impressed with the promo.
Promo was straight trash hope he starts to put more emotion in it

— HighTeamStandUp #BozzyClub (@StonedReacts) November 15, 2022
Fans taking a shot at Dominick Mysterio for insulting the veteran.
@DomMysterio35
Give up your dad's moves and ur uncles moves. Give up the Mysterio last name. You don't DESERVE IT!!

— Nigma Nigma (@NigmaNigma3) November 15, 2022
Lol why are they making @DomMysterio35 like the really annoying brother that nobody wants around. He could have so much more potential but I guess in time….

— Frbid2lvme (@frbid2lvme36) November 15, 2022
Better than Eddie Guerrero? This fan doesn't think so.
Dominik Mysterio is wearing TF out that eddy shimmy .. & he doesn't even do it right…please stop🤦🏽‍♂️

— Phantohm X (@BlkPhantohm) November 15, 2022
Go to NXT !
Imma be honest. Dom feels like he got worse as heel. Yeah you can argue he needed to get out of his father's shadow (I agree), but I think that just exposed him as someone who needs to go straight to NXT.

— … (@IamNster) November 15, 2022
Kid is so unseasoned, he needs to to go back to nxt and rebrand himself or something.

— Javel Ramirez (@javelramirez1) November 15, 2022
Hell no….He's horrible in the ring and his mic skills meh ….You need some NXT time chief

— 紫雷イオ😈 Fanpage #IyoSky (@SkYIYO0307) November 15, 2022
A new fantasy feud fans think Dominick will lose too.
ADVERTISEMENT
Article continues below this ad
Since his impressive debut in 2020 against Seth Rollins, Dominick Mysterio has come a long way. He had some memorable feuds tagging with his legendary father, Rey Mysterio. Moreover, he and the "619 Master' became the WWE's first father-son duo to win the tag titles.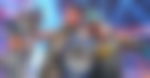 ADVERTISEMENT
Article continues below this ad
Nevertheless, there is some backlash from the fans over Dominick's position in WWE, but he is improving every week. Everyone is looking forward to seeing him face his father after betraying him at Clash at the Castle a couple of months ago.
Watch this story:- Things Brock Lesnar Has Destroyed Over the Years