Drew McIntyre Buries Goldberg Following WWE Raw With a Hilarious Post
Published 01/06/2021, 7:30 AM EST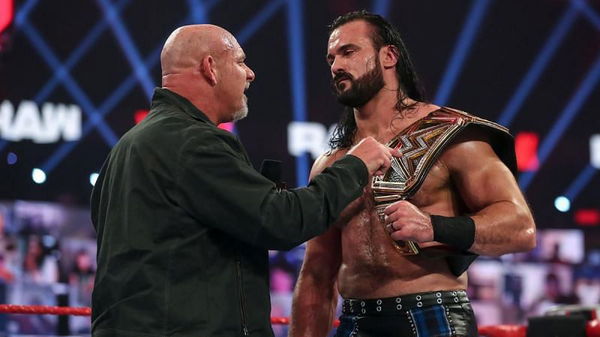 ---
---
2020 was a glorious year for Drew McIntyre as he won the Royal Rumble and became a two time WWE Champion. McIntyre got over tough title contenders in Randy Orton, AJ Styles, and Keith Lee. Now, Goldberg looks like the next contender for McIntyre's WWE Championship after what happened at Raw Legends Night.
ADVERTISEMENT
Article continues below this ad
Drew McIntyre buries Goldberg's push
After intense loggerheads to end Raw, the wrestling community raged at Goldberg coming out and challenging Drew McIntyre. And it looks like Goldberg's challenge/push into the title picture did not thrill the WWE Champion too.
ADVERTISEMENT
Article continues below this ad
The 'Scottish Warrior' tweeted an image of him and Goldberg from Raw. He hoped Goldberg enjoyed the moment last night because it is the only push he is going to get; taking a shot at this random push for the WWE Hall of Famer into the title picture. Much to fan approval!
How does Goldberg even come in the WWE Championship picture?
Drew McIntyre defeated Keith Lee in an exciting contest for the WWE Championship. Following the match, McIntyre grabbed the microphone to cut a promo, but Goldberg came out and cut him off. In a stunning segment, Goldberg challenged McIntyre at the Royal Rumble.

Bryan Alvarez of the Wrestling Observer Radio revealed WWE was short of time and proceeded directly with Goldberg coming out as McIntyre took the microphone and said what he was supposed to say. Supposedly, McIntyre was to throw some shade on the legends, but as he said nothing, the segment made zero sense only with Goldberg talking.
ADVERTISEMENT
Article continues below this ad
The Observer also reports Goldberg vs McIntyre at the Royal Rumble was finalized two days before Raw. Imagine! One of their best PPVs is in less than a month away, and they're still unsure about which talent to use against their WWE Champion. Not just that, but they bring Goldberg out of all people. Brock Lesnar would've made sense, but Goldberg took the cake.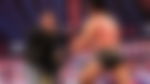 Goldberg vs Drew McIntyre shouldn't be anything more than McIntyre squashing Goldberg. Why? Well, that would only cement McIntyre's dominance and reign as WWE Champion and as a top face of the company. A ruthless, convincing victory would do wonders for Drew!
ADVERTISEMENT
Article continues below this ad
What are your thoughts on the same? Share it with us in the comments below!