Colby Covington has been in the news ever since he confirmed his departure from American Top Team. He has now gone solo and is part of the Colby Covington Incorporated.
Colby confirmed this revelation during his interview with the popular MMA journalist Ariel Helwani. However, the parts that stood out in the interview were his comments on Drew McIntyre.
'Chaos' rained hate down on the Scottish Psychopath, saying, "Drew McIntyre is gonna get his ass whooped so bad. I can't tell you what I am going to do to him."
This was a sudden change in tone as the former UFC welterweight champion was previously rather calm and collected throughout the interview. However, he eventually elaborated on the reason behind their bad blood.
"What the beef is is I go, I go over there and express my interest that hey, I  wanna go wrestle in WWE. I wanna wrestle the best wrestler in the company, Drew McIntyre. This big Scottish Sasquatch. You know he just beat Brock Lesnar, he's got all the hype. He's this big bad boy, and he comes at me from this angle, ' Yo lets f**kin fight'," Covington told Helwani.
No one knows what's more shocking, McIntyre talking trash or the fact that Covington wants to follow in the footsteps of his fellow fighters in the UFC and get into the world of professional wrestling.
Colby Covington VS Drew McIntyre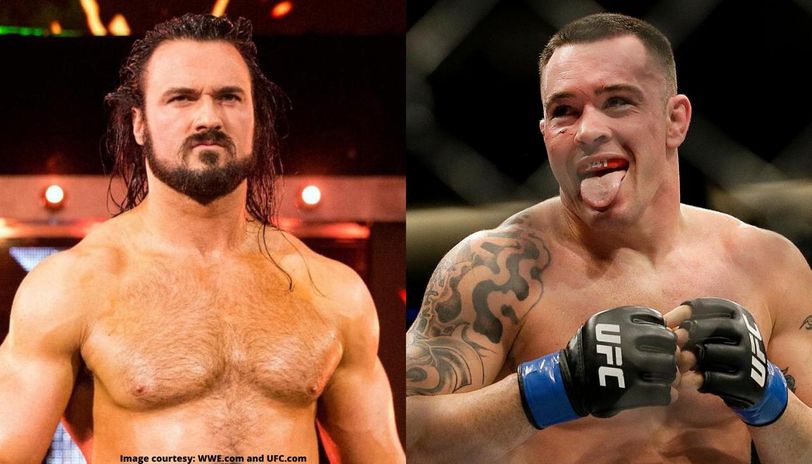 Though Colby promised Ariel that he wouldn't lie to him, fans speculate that this is just a work. During his rant, Colby berated McIntyre relentlessly before saying that Drew could be 7 feet tall, however, being 7 feet tall wouldn't help him when he's flat on his back.
This statement was harsher than what most WWE stars say in their promos to justify a feud. Whether it's a work or not, Vince McMahon and Fox could really use this promo to set up a feud between the two athletes.
WWE has been trying to make itself look a lot more legit ever since the Fox deal. They got Cain Velasquez and Tyson Fury join their ranks and having another legit fighter wouldn't hurt.
The fans, however, would need to wait for the coronavirus pandemic to get over as WWE wouldn't want Colby to debut in an empty arena.