Drone Footage Shows Extravagant Construction of WWE WrestleMania 37 Stage
Published 04/04/2021, 8:30 AM EDT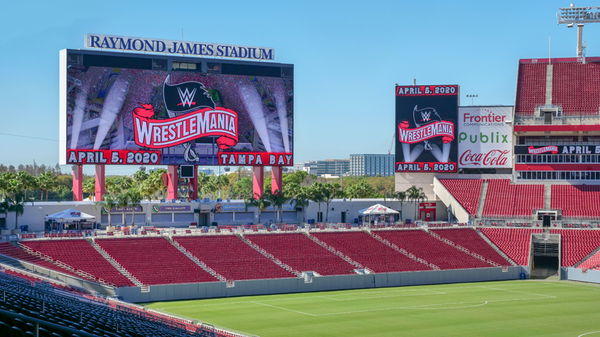 ---
---
The 'Grand Daddy of Them All,' WrestleMania 37, is only seven days away! We cannot contain our excitement and are sure fans around the world cannot as well. Everything at WrestleMania is grand, and the stage is a major attraction. Guess what? We've got a glimpse of this year's stage!
ADVERTISEMENT
Article continues below this ad
Raymond James Stadium transforming for WrestleMania 37
The Raymond James Stadium in Tampa, Florida, was originally scheduled to host WrestleMania last year. The COVID-19 pandemic happened, and all those plans derailed. However, fast forward one year later, things are almost normal, and we'll have WrestleMania with fans at the venue!
ADVERTISEMENT
Article continues below this ad
A recently released drone footage from Action Jax FPV shows the WrestleMania 37 construction that is underway. One can clearly see WWE has instilled two mammoth pirate ships inside the Raymond James Stadium.
One ship is fully complete near one of the score walls. The other ship construction is underway alongside the stage.
By the early looks of it, the ship will be on top of the entrance. The idea of it has already given us goosebumps, as it promises to be another impressive stage.
There is nothing more that we could identify in the video. The stage looks in the early stages, but we're sure it will be functional by the weekend.
ADVERTISEMENT
Article continues below this ad
In an interview with Metro, veteran WWE Set Designer Jason Robinson talked about what fans could expect with this year's WrestleMania stage. He said, "A lot of sports fans around the world have just seen the stadium, so they know what it looks like. Now it's our turn.
"We're going in there to do something different. I don't think it matters whether fans are seeing it again after the Super Bowl or for the first time with WWE; they are going to love what they see," he continued.
ADVERTISEMENT
Article continues below this ad
WrestleMania 37 will be the first WWE event in over a year to have fans in attendance. The 'Show of Shows' will have 25,000 fans on both nights due to COVID-19 protocols. Either way, the card is stacked, and this WrestleMania promises to be one of the greatest Manias ever!