Dwayne Johnson calls Roman Reigns an Inspiration Both in and Outside The Ring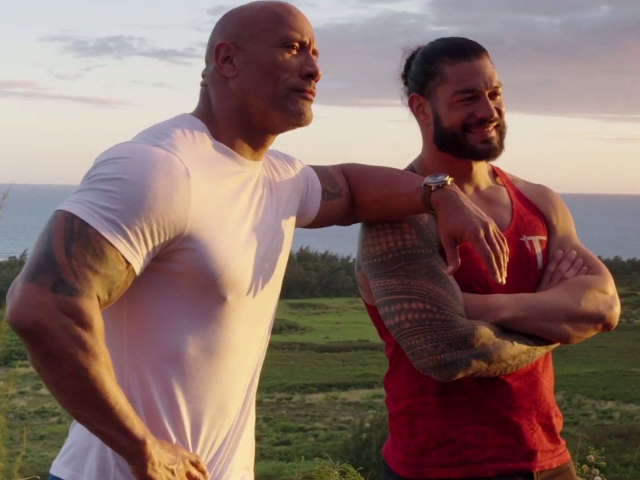 Roman Reigns is a warrior, not just in-ring, but also in real life. Anyone who has been following him knows that the WWE Champion has battled leukemia in the past.
Now, his cousin, Dwayne 'The Rock' Johnson has opened up about Reigns' struggle during the dark days.
The Rock reveals the strength that Roman Reigns has by referring to the shooting of Hobbs & Shaw. As per him, when the WWE Champion arrived at the sets, he was still recovering from Leukemia. Thus, every scene he shot wasn't supposed to look like it's coming from a Titan. However, Reigns made it possible through his strength and zest of pushing forward.
"I think the cool thing about that, Hiram, was that we were able to have Roman actually come to us on set in Hawaii and participate in Hobbs & Shaw with all these really intense action scenes. And at that time he was still recovering from Leukemia."
Furthermore, The Rock rejuvenated Roman Reigns by bringing forward the energy which The 'Big Dog' brought with himself. Finally, he states that Roman Reigns is a huge inspiration. Needless to say that everyone from his audience base couldn't agree more!
"He did add to the mana. Not only that, but he also brought real beautiful energy because everyone knew that he was a fighter. Not only is he a fighter in the ring but also a fighter in terms of life. And how inspiring he's been to so many, millions of people, all around the world. Not only though his professional wrestling but more importantly than that as he's fought Leukemia and has been that inspiration."
[youtube https://www.youtube.com/watch?v=upoFMisyr6M]
Roman Reigns was supported by WWE upon Leukemia diagnosis
Roman Reigns has battled the disease for eleven years. He was diagnosed with Leukemia when he was twenty-two years old. At that point, neither did he have shelter over his head nor did he have a job for support. On top of that, he had a baby on the way.
At that point he made his way to WWE, from where he climbed the ranks to become the WWE Universal Champion.
[youtube https://www.youtube.com/watch?v=cSSLHiWpe0k]