Did The Rock Have the Best Rookie Year in WWE History?
Published 02/24/2021, 6:45 AM EST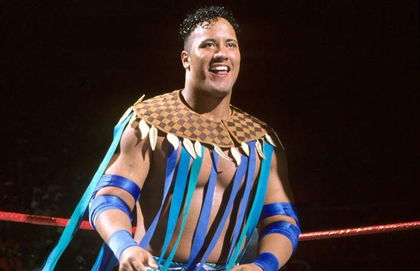 ---
---
Rookie years are tremendously important for a WWE superstar. The first twelve months of a superstar's career determine how well he or she will do in the future. Most wrestlers have had decent rookie years, while some have knocked it out of the park from the start. AJ Styles, Kurt Angle, Ronda Rousey, and of course The Rock had incredible rookie years.
ADVERTISEMENT
Article continues below this ad
The incredible rookie year of The Rock
In November 1996, vignettes showcasing the impressive physical specimen called Rocky Maivia started airing. It showed the future WWE Champion working out in the gym and showing off his wrestling skills. He would put that strength and skill to the test at Survivor Series 1996.
ADVERTISEMENT
Article continues below this ad
Rocky Maivia debuted at Survivor Series 1996, where he picked up two great eliminations. Goldust and Crash met their doom at the hands of the youngster, but the joy and positivity surrounding The Rock's debut soon dissipated.
At Shotgun Saturday Night, Rocky Maivia beat fan favorite Razor Ramon. After the match, fans booed the Rock even though he was a babyface. Despite fans turning on him, The Rock beat Triple H for the Intercontinental Championship in February 1997. This was before the Game became 'The Game' and was known as Hunter Hearst Helmsley.
WrestleMania debut
Maivia defended his Intercontinental Championship against the Sultan at WrestleMania 13. This was his WrestleMania debut, and he registered an impressive title defense.
After the match, the Sultan and The Iron Sheik attacked the young champion. His father, 'Soulman' Rocky Johnson, ran to his son's aid, fighting off the heels. As the heels over-powered Rocky Johnson, Rocky Maivia fought his way back and rid the ring of the heels.
In March 1997, after WrestleMania 13, Rocky Maivia faced his biggest test yet in Bret 'The Hitman' Hart. Hart and Maivia wrestled a short match which almost ended in disqualification. Hart wrapped Rocky's legs around the ring post and locked in the Figure Four leg lock. The youngster's legs were spared after a man who would become his biggest rival saved him.
The Rock joins the Nation of Domination
In August 1997, Maivia had enough of fans booing him and chanting 'Die, Rocky, Die'. He ditched his babyface persona by joining the Nation of Domination, a group of heels comprising Ron Simmons (aka Farooq), D'Lo Brown, and Kama Mustafa.
ADVERTISEMENT
Article continues below this ad
During Farooq's match with Mankind, Maivia planted the latter with an uranage, which he later called the Rock Bottom. He also rechristened himself as The Rock, a name that would live forever and surpass generations.
ADVERTISEMENT
Article continues below this ad