Dwayne Johnson Once 'Rocked' WWE Legends By Turning Them Into "Cheerleaders" on SNL
Published 05/16/2022, 9:30 AM EDT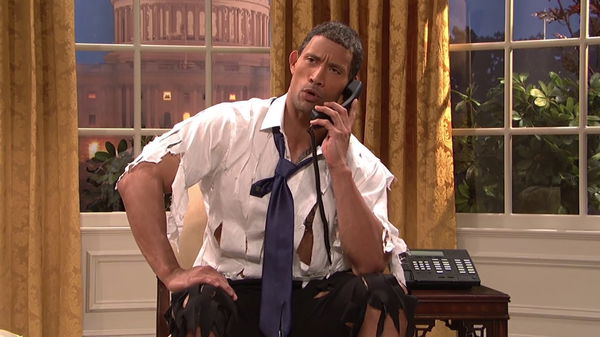 Dwayne Johnson has made a huge name for himself in Hollywood. However, before that, The Rock is a GOAT in the professional wrestling business. He has had multiple records in WWE and is a 12-time world champion.
The Rock first came into the limelight when he hosted Saturday Night Live for the first time. His first appearance on SNL was on 18th March 2000 alongside other WWE stars Triple H, The Big Show, and Mick Foley.
ADVERTISEMENT
Article continues below this ad
Basically, The Rock was there for his monologue and while he was hosting Hunter, Show and Foley entered to cheer him. Vince McMahon also had a cameo during the monologue of The Great One.
Triple H came on the stage and gave him best wishes to host SNL and went back. Meanwhile, WWE legends The Big Show and Mick Foley started cheering for The Rock like actual cheerleaders by waving hands in the air.
The audience started laughing, seeing Show and Foley cheering out of nowhere. Dwayne Johnson was already rocking the wrestling world in the year 2000, and this was a start for him in Hollywood. 
The reason these four WWE superstars came to SNL was to promote WrestleMania 16, which was later that month. Moreover, the WWF/E Championship match featured Triple H (c) with Stephanie McMahon Helmsley, The Rock with Vince McMahon, Mick Foley with Linda McMahon, and Big Show with Shane McMahon at that year's WrestleMania.
Since this appearance, The Rock appeared several times on SNL. He is a member of the Five-Timers Club, hosting Saturday Night Live on March 18, 2000, April 13, 2002, March 7, 2009, March 28, 2015, and May 20, 2017, and made a cameo on October 17, 2009, as The Rock Obama during "The Rock Obama" cold opening sketch.
Is Dwayne Johnson getting approval from NBC for the third season of Young Rock?
Young Rock has been one of the top 3 comedy series for NBC. The series revolves around the famous actor and WWE wrestler Dwayne Johnson. The key question is will NBC renew the series for a season three?
Watch this story:-  From Being An Ice Hockey Fan to Hunting : Brock Lesnars Favorite Hobbies Outside WWE
ADVERTISEMENT
Article continues below this ad
The series has more content to show in terms of the story of Dwayne Johnson. Season 2 had a viewership of 2.2 million, which was around 38% less than season one. However, there are no signs of canceling the show yet.
Despite all the factors, the show is doing good than other series on other channels. The sitcom currently has a 7.9 IMDB rating. Hence, NBC might renew the series as the higher rating sitcoms have fewer chances of going off-air.
ADVERTISEMENT
Article continues below this ad
Are you a fan of the Young Rock series? Which is your favorite episode? Tell us in the comment box below.