Dwayne 'The Rock' Johnson Shows off His Pre-work Out and Post Work-Out 'Cheat Meal' That Includes Dozen Eggs and Bison Meat
Published 07/04/2022, 11:30 AM EDT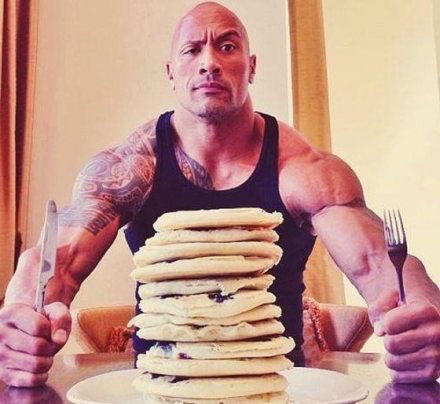 When it comes to notable transformations in Hollywood around the year 2011, Dwayne Johnson happens to be one of them. The former WWE Champion added more muscle to his body and became a bodybuilding icon. Johnson started intense gym workouts, which he shared on his social media more often. Also, one of the significant changes he made was changing his diet to 6000 calories a day.
ADVERTISEMENT
Article continues below this ad
Recently, Dwayne Johnson shared his Sunday's pre-workout breakfast on his Instagram. In the caption, he wrote about everything that was on his plate before heading to lift some weights.
ADVERTISEMENT
Article continues below this ad
The caption was, "Pre workout Sunday power breakfast 💥💪🏾 Training legs this morning, so carbing up + some good suga suga.- grilled bison- omelette- brown rice cereal + blueberries- english muffins with peanut butter + honey- @zoaenergy- on going scrabble game where I'm getting my a** kicked 🙋🏽‍♂️😂 Have a great Sunday. Let's get to work. #sexyMF."
 

View this post on Instagram

 
Everyone is aware of how intense a workout the former WWE Champion does, especially when it comes to shaping his legs. After his workout, he shared his post-workout meal on Instagram and, as it was his cheat day, there were some extra calories.
He wrote, "And here's the Sunday post-workout meal. Just wrapped leg training + it's #CheatDay so IT's ON baby 😉🖤💪🏾👊🏾- Dozen eggs (2 whole eggs + 10 egg whites) – Turkey bacon (crispy) – Homemade biscuits with honey drizzle coming in hot.* ridiculous biscuits made by family chef @chefputtie 🧑🏾‍🍳 👏🏾👏🏾."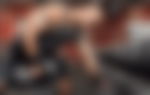 Johnson added, "Leg training is my hardest workout of the week and I do my best to schedule it on cheat days so I can really load up with glycogen to push more volume into muscles and have killer workouts.* plus training on Sundays gives you that psychological edge over your competition 😈💀 Happy 4th to you and your families ❤️🥃."
.

View this post on Instagram

 
Dwayne Johnson eats six meals a day to fuel his workouts and build muscle. The Rock eats high-protein chicken, salmon, and buffalo with carbs like rice and sweet potatoes. He also eats his greens and then celebrates on the weekends with massive cheeseburger cheat meals.
What does Dwayne Johnson usually eat on a cheat day?
We saw in the recent post of Dwayne Johnson about his cheat meal. But is this the same menu he has for his cheat day to give him a treat? Speaking with Delish last year, Johnson revealed what he likes to have on weekends and cheat days.
ADVERTISEMENT
Article continues below this ad
He said, "My go to cheat meal is usually, if I can find an amazing burger spot that has an amazing cheeseburger and then I'll throw bacon on there avocado, lettuce, tomato, onions, some great fries. I'll do that. Then some sort of sugar blast."
The Rock added, "'I will have either some great cookies, or I have two amazing things: I have this amazing coffee cake, which is incredible, that I've been enjoying on my cheat days and I also have tried apple fritter bread which is incredible."
ADVERTISEMENT
Article continues below this ad
Watch This Story:- Dwayne Johnson's Daughter Simone to The Undertaker's Daughter Kaia – Meet Daughters of Top WWE Stars
Johnson also said about the importance of cheat days. He says the work he does the whole weeks deserves a treat on weekends.