Edge is Going to WrestleMania! Former WWE Champion Secures A Historical Win at Royal Rumble 2021
Published 01/31/2021, 11:13 PM EST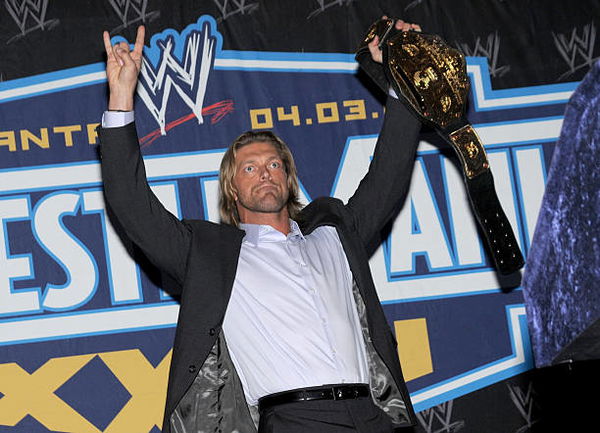 ---
---
The main event of the 2021 Royal Rumble was the titular Battle Royale. With the majority of its entrants announced, fans more or less knew what to expect. However, Edge surprised everyone.
ADVERTISEMENT
Article continues below this ad
As announced earlier, long-time rivals Edge and Randy Orton started things off. Early in 2020, Randy Orton had injured Edge and tried to end his career once and for all; hence, Edge was out of action for most of the year.
Keeping that in mind, Edge unleashed a flurry of offenses on his old enemy. The duo brawled all over the ring as if the Battle Royale was irrelevant. After a while, Sami Zayn entered the match, and the eliminations began.
ADVERTISEMENT
Article continues below this ad
Even after competitors like Zayn, Mustafa Ali, and Jeff Hardy joined the match, Edge solely focused on Randy Orton, taking him to the announce table and slamming him with all his strength. Following that, Orton's left knee pad tore off, and the WWE officials assisted him out of the arena.
Meanwhile, veteran Carlito and NXT roster member Damien Priest entered the ring. Before that, Dolph Ziggler entered at number six and eliminated Jeff Hardy.
As a surprise entrant, Kane entered his 18th Royal Rumble as the 18th entrant. He and Daniel Bryan had a brief Team Hell No reunion before Damien Priest eliminated Kane.
WWE icon Hurricane made his return to the ring and went head to head with Big E and Bobby Lashley before being eliminated by both. Former World Champion and Edge's best friend Christian returned as well.
He helped in eliminating Lashley and reunited with Edge. Post that, AJ Styles entered with Omos.
Omos eliminated Rey Mysterio and Big E when they were on the apron after being thrown over the top rope. Another return happened at number 29 with the comeback of former World Champion Seth Rollins.
Edge wins his second Royal Rumble after 11 years
The final four came down to Edge, Christian, Seth Rollins, and Braun Strowman. Rollins tried to manipulate Strowman into eliminating Edge and Christian.
However, Edge and Christian managed to outdo both of them. Edge was on the verge of getting eliminated by Strowman, but Christian helped his old friend out.
But while doing so, Strowman and Christian got eliminated. Soon after, Edge eliminated Rollins, but Orton returned out of nowhere to deliver an RKO and eliminate the 'Rated-R superstar.'
ADVERTISEMENT
Article continues below this ad
Yet, Edge was able to eliminate Orton and rightfully win the 2021 Royal Rumble. Edge became the third person in history to do so after Shawn Michaels and Chris Benoit. Edge lasted almost an hour and eliminated three people.
ADVERTISEMENT
Article continues below this ad
It was unreal to see Edge win from number 1 after 11 years and that too when his best friend Christian was by his side. As we predicted earlier, this is truly a dream come true for fans all over the world.