Goldberg Received an Unexpected Confidence Boost from Top WWE Commentator After Trip to Saudi Arabia: "Your Feelings About My Performance Mean Everything to Me"
Published 02/19/2022, 8:13 AM EST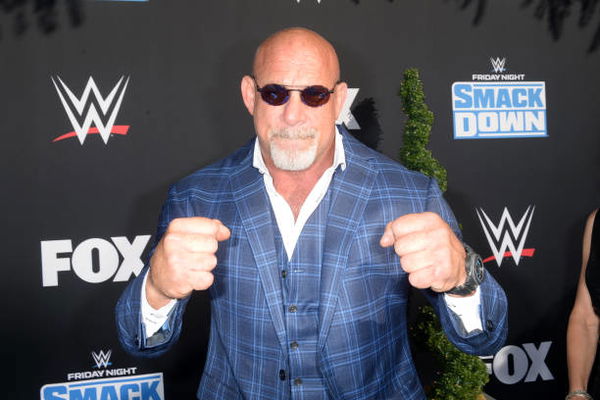 Bill Goldberg was the pro-wrestling Mike Tyson in WCW, who used to knock out his opponents in quick succession. Fans consider him as the original inventor of the maneuver spear. Goldberg went to have a 173-day winning streak in WCW before losing to Kevin Nash in his 174th match. 
Goldberg debuted in WWE in 2003 and was in the company for one year. He took a hiatus from wrestling and returned to WWE in 2016 after 12 long years. Since returning, he won the Universal Championship twice. He will now have a match against Roman Reigns with a motive to win Universal Title for the third time.
ADVERTISEMENT
Article continues below this ad
Goldberg will have a match against Roman Reigns at Elimination Chamber at the Jeddah Dome, Saudi Arabia. Ahead of the Elimination Chamber PPV, Goldberg appeared on After The Bell podcast, hosted by Corey Graves. There Graves recalled Goldberg's match at Saudi Arabia last year against Bobby Lashley.
Graves said, "I think I told you that one the plane back because it was a real spectacle. And that has to give you confidence going into it not only that you had (the) match of that caliber, but you defeated a guy, who is currently the mirror image of Roman Reigns."
Goldberg said, "I was feeling more ready than I have been in 10 years. We all know that I got double the lead time that I normally do. And getting that time I do believe that everyone saw that I still have ability to be dominant."
Goldberg added, "I can't thank you enough for the words of confidence that you gave me afterwards. He also said, "Guys like you eloquating your feelings about my performance mean everything to me."
The match between Goldberg vs Lashley was a spectacle. Not only Graves but the WWE Universe also thought that match was one of the best matches Goldberg had in his total WWE run. Goldberg has had a bit of big luck going into matches in Saudi Arabia and with that luck, he will aim to return home with the Universal Title on his shoulders.
Watch this story:- Brock Lesnar's unexpected F-5s
Goldberg at 55 years old brings a lot to the table
ADVERTISEMENT
Article continues below this ad
Since Goldberg returned to WWE to have his second run from 2016, he has been a major attraction of WWE. In his second run, he had matches with major superstars and also won the Universal Title twice. 
Austin Theory recently appeared in an interview. There he gave his opinion on Goldberg's part-time schedule. Theory was of the opinion that Goldberg is the main attraction right now. Moreover, he shared the belief that a 55-year-old Goldberg still brings a lot on the table and his presence sells much of the tickets. 
ADVERTISEMENT
Article continues below this ad
He is still the best superstar on the roster. Also, with his part-time schedule, he will have more time in the company.