Everything You Need to Know About 'Deacon Batista', the Animal's first WWE Gimmick
Published 05/10/2021, 10:30 AM EDT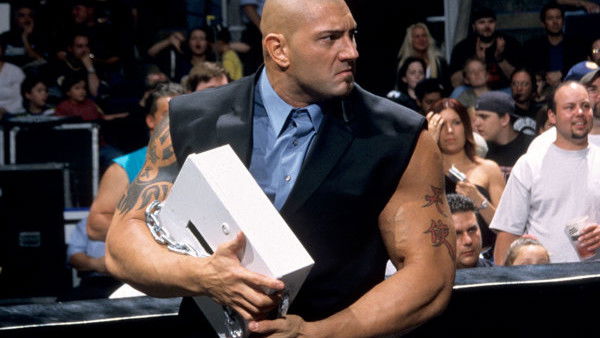 ---
---
In 2002, the richest OVW class came to WWE. John Cena, Randy Orton, Brock Lesnar, and Batista set foot in Vince McMahon's kingdom, and they all became bonafide legends. However, one of these superstars had a slightly rocky start to his career.
ADVERTISEMENT
Article continues below this ad
The WWE debut of Batista
ADVERTISEMENT
Article continues below this ad
On May 9th, 2002, D-Von Dudley, portraying the gimmick of a reverend, brought out a muscular man with him. This hunk wore D-Von's Building Fund donation box around his neck, and Reverend D-Von declared him 'Deacon Batista'.
Deacon Batista made his in-ring debut on SmackDown, where he and D-Von faced Farooq and Randy Orton. The future World Champion picked up the win after nailing Orton with a massive spinebuster, a move that became his staple for the rest of his career.
Batista's first real feud was with Randy Orton, who tried to beat his future Evolution stablemate with different partners. He could not beat him with Farooq, the Big Valbowski, and even Mark Henry. Batista's first loss in WWE came at the hands of Rikishi.
During the match, D-Von mistakenly punched his partner, costing him the match against Rikishi. With his unbeaten streak broken, he argued with D-Von constantly, until he betrayed him in August of the same year.
D-Von beat John Cena, after which the Animal attacked him and planted him with the first Batista Bomb.
The Animal's subsequent career
After betraying D-Von, the Animal moved to Raw, where he teamed up with Ric Flair. He and the WWE legend planned to rule Monday Night Raw, and he even beat Kane at Armageddon 2002.
Soon after WrestleMania 19 in 2003, Triple H formed a heel stable called Evolution, and Batista joined the group.
He became Triple H's enforcer, but his greed for gold overcame him. In 2005, he won the Royal Rumble and challenged his former leader for the World Title at WrestleMania.
He beat the Game for the title and cemented himself as a main event Superstar. Batista would have four reigns with the World Title, but his hunger for gold did not stop there.
ADVERTISEMENT
Article continues below this ad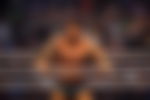 In 2009, Batista reignited his rivalry with his former Evolution stablemate Randy Orton. He beat the Viper for the WWE Championship at Extreme Rules in a steel cage match.
He would win the title once more in 2010 when he feuded with John Cena, a rivalry that culminated in an exceptional WrestleMania 26 match.
ADVERTISEMENT
Article continues below this ad
The Animal's career neared its end in 2014, when he challenged for WWE's top prize for the last time. He returned in 2019 to face Triple H at WrestleMania and declared that he has no intentions to return to the ring.