Everything You Need to Know about Molly Holly's Legendary WWE Career
Published 03/11/2021, 8:57 AM EST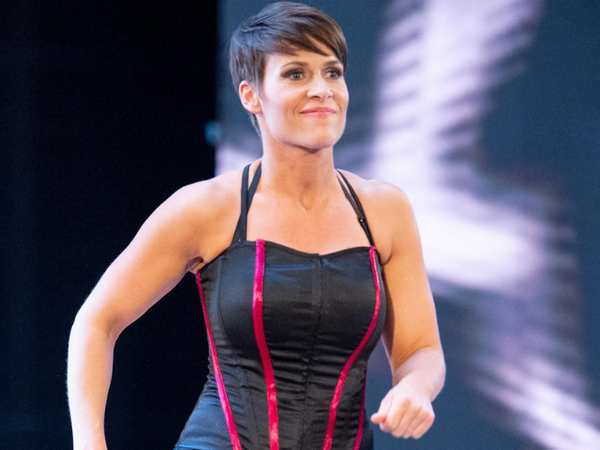 Molly Holly became the first inductee for the WWE Hall of Fame Class of 2021 after WWE released a statement confirming the same.
ADVERTISEMENT
Article continues below this ad
Notably, Holly received this news on WWE's The Bump.
Molly Holly entered the wrestling industry after training with Dean Malenko in 1997. One of her first appearances was with Randy Savage and Alundra Blayze in WCW in 1999, when she became a part of Team Madness. She debuted as a glamorous diva but was brutal inside the ring.
ADVERTISEMENT
Article continues below this ad
Molly Holly moved to WWE in 2000 and was booked in a rivalry with her cousins, Hardcore Holly and Crash Holly, and The Dudleys.
However, her career took a turn when she was moved to a romantic angle with Spike Dudley. Soon afterward, Molly made her way to WrestleMania X8 alongside The Hurricane.
After an initial phase of success, she started resisting The Hurricane's shadow and wanted her own identity. As a result, she went on her journey for the gold.
She secured the Hardcore Championship after she transformed into Mighty Molly.
Molly Holly suffered a devastating loss at WrestleMania XX
Coming to 2002, Molly Holly started targeting the biggest Superstars of WWE. She began with Trish Stratus, defeating her to become the WWE Women's Champions at King in the Ring 2002.
Unfortunately, her winning streak ended along with her second reign. Continuing her descent into infamy, Victoria shaved her bald at WrestleMania XX.
Victoria ending her title run was an embarrassing moment for Molly Holly. However, the match gained huge momentum because rarely did divas take part in a Hair vs. Title Match. Continuing the storyline, Holly sported wigs in the months that followed.
Unfortunately, she could never recover from this massive setback. Even after getting several opportunities to recapture the Women's Championship, she couldn't make it happen.
She quit the ring in 2005, but returned for the first ever Women's Royal Rumble match in 2018, followed by another appearance at Royal Rumble 2020.
At Royal Rumble 2018, she made a surprise appearance at number 12. She eliminated Sarah Logan and was eliminated by Michelle McCool.
Considering everything, she is regarded as one of the most influential Superstars within the Women's Division.
Superstars such as Dwayne Johnson, Beth Phoenix, Triple H, and others congratulated her for the induction.
Many people say @WWE Superstars are real-life superheroes and in this case … she truly is! A women's champion, an inspiration to our current roster, and simply a wonderful person. Congratulations to #MollyHolly on being the first inductee into the #WWEHOF class of 2021!! https://t.co/n0Am7w5cBH

— Triple H (@TripleH) March 10, 2021
When I think of Molly Holly, I think of a woman who lifted up other women while blazing her own incredible path. Beautiful inside and out… congratulations Molly Holly on your @wwe Hall Of Fame induction. YOU DESERVE IT—— pic.twitter.com/Y8ocbuNyOY

— Natalie K. Neidhart (@NatbyNature) March 10, 2021
Guys I can't even tell you how happy this makes me!!! Everyone. Literally EVERYONE loves Nora #MollyHolly …selfless, trail blazer, advocate for others, ring general, one of the best human beings I've ever known…and now FINALLY a #WWEHallOfFamer

— Betty Phoenix (@TheBethPhoenix) March 10, 2021
So so happy about this wonderful news for my beautiful and talented friend #MollyHolly! She has given so much to this business and personally, she was a huge part of helping me transition into a fighting champion that could be taken seriously. Love and appreciate her so much! https://t.co/JYQRNiURwn

— Trish Stratus (@trishstratuscom) March 10, 2021
ADVERTISEMENT
Article continues below this ad
Thank you @wwe and @WWETheBump for giving me the honor of breaking this morning's news. I tried my best not to cry, I failed in spectacular fashion. 😁🤷🏻‍♂️ Congrats Mighty Molly Holly! You deserve this so much!

— Hurricane Helms (@ShaneHelmsCom) March 10, 2021
ADVERTISEMENT
Article continues below this ad
Even though she didn't have a long career, she had a huge impact in the industry for the Women's division. Her contributions paved the path for the younger talents to make an impact within the industry.