FACT CHECK: Did Brock Lesnar Butcher a Black Bear, Moose or a Cow?
Published 04/30/2022, 11:30 AM EDT

Follow Us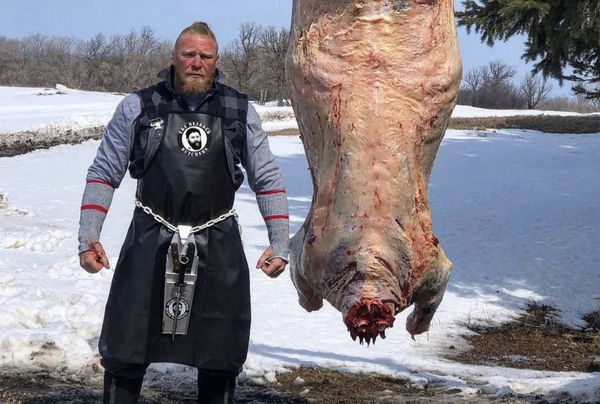 Recently, The Beast Incarnate Brock Lesnar ventured into the wilds. Brock Lesnar got into his non-wrestling hunting gear to hunt down a wild animal. The Beast has shown his incredible strength inside the wrestling and UFC ring, but this time it was different.
Brock Lesnar has been very fond of hunting for a long time. Lesnar was spotted next to a dead animal in a recently resurfaced picture from post-WWE WrestleMania.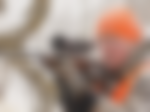 ADVERTISEMENT
Article continues below this ad
Many fans presumed that The Beast hunted presumably a black bear, a moose, or a cow! So let's see what The Beast Incarnate butchered in the woods of Saskatchewan.
Did Brock Lesnar hunt down this animal?
Brock Lesnar may have mastery in hunting down an animal, but butchering the meat after hunting was crucial. So, Lesnar joined forces with The Bearded Butchers in order to learn the next step of hunting. On 29th April, 2022, The Bearded Butchers posted a picture on their Instagram appreciating The Beast's hunt.
 

View this post on Instagram

 
"We just received a call from Brock Lesnar, and he was excited to share what he was up to today. (Butchering a Beef) We approve 100%!!! Great work, Brock!"
When we look at the carcass of this dead animal hanging upside down, fans believe that it was a cow at first sight. However, that might not be the case as Lesnar probably hunted down a massive black bear.
Watch This Story: Broke Teenager to Highest Paid Hollywood Actor: The Evolution of Dwayne 'The Rock' Johnson
According to the Candle Lake Outfitters, in Northern Saskatchewan, the very best black bears are spotted. They usually find black Bears in a mix of boreal forest, swamps, or river bottoms. The former WWE Champion found his victim in the woods of his birthplace and spiked a black bear.
The Beast butchered a black bear for his special meal!
Even though Lesnar may not have hunted this black bear, he was the one who butchered the animal. Fans got confused between different animals because the animal's skin was unrecognizable. This upside-down dead animal doesn't have a head or tail through which fans predict who the animal was. But a dead black bear corpus looks precisely like the one Brock Lesnar is standing next to.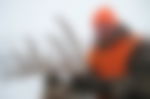 ADVERTISEMENT
Article continues below this ad
The Beast Incarnate posed next to a massive dead black bear with blood on his hands. Before this, with the help of The Bearded Butchers, fans have witnessed Lesnar butchering the cow meat. However, this was the first time that The Beast Incarnate may have butchered a black bear.
Lesnar stepped aside from his wrestling gear to prepare himself in the original 'Farmboy' attire. The Beast Incarnate looks like a Viking who is about to cut the hunted bear into small pieces for his meal.
ADVERTISEMENT
Article continues below this ad
What do you think of Lesnar butchering the animal? Let us know.