Fans Criticize New WWE Commentator Adnan Virk Following Several Botches on Raw
Published 04/13/2021, 7:45 AM EDT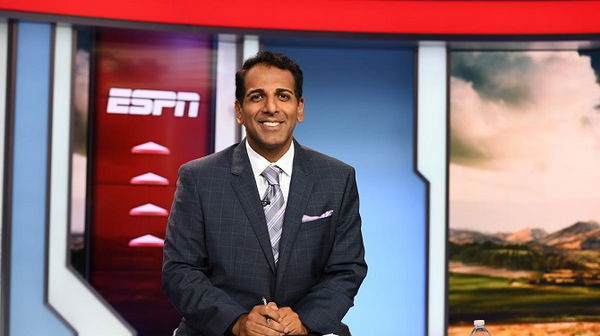 ---
---
WWE Universe knows that the Raw after WrestleMania is one of the most anticipated episodes of the year. Unfortunately, this year's Raw after Mania was pretty average. No fresh faces debuted, except one – Adnan Virk. Virk is a former ESPN host and is the new voice of Raw, replacing Tom Phillips.
ADVERTISEMENT
Article continues below this ad
Adnan Virk receives backlash following WWE Raw debut
Wrestling doesn't get over or connect with fans just like that. There needs to be equally explosive/timely commentary. Without commentary, WWE's action would feel like watching a film on mute.
ADVERTISEMENT
Article continues below this ad
Speaking of commentary, Adnan Virk joined the Raw broadcast team today. And what a forgettable debut he had! The former ESPN host received tons of backlash on Twitter for his commentary on Raw. But what did the poor guy even do? Wasn't this his first WWE show?
Well, that's what the problem was. This was Adnan's first WWE show, and he seemed under-prepared. Fans called him out on Twitter for botching move names, Superstar names, and even tag team names! First, he couldn't distinguish between Erik and Ivar, and instead, kept referring to both men as 'Erik Ivar.'
Not just that, but he also referred to the duo as The Viking Express! Now, that's a mistake you don't expect from someone on commentary, especially when you're on the commentary team of the longest-running weekly episodic television show in history!
Adnan Virk don't know either. He called Ivar "Erik Ivar" the whole time, and called them the Viking Express and Viking Experience lmao

— Mark Out (@_MarkOut_) April 13, 2021
A legendary lineage
Alongside the botches in names, Virk also botched a lot of move names. He had evidently not prepared or relied too heavily on improvising. We know it's too harsh to pounce on him like this right after his debut, but what else could fans do? At least, the Twitter backlash may push him to up his game.
I know It's only Adnan Virk's first day on the job but, the man needs Improvement. #WWERaw

— William (@BeChillWill) April 13, 2021
I've always liked Adnan Virk as a baseball guy, but he's so unfamiliar with the product here his commentary makes the whole viewing experience cringey #WWERaw #WhatAManeuver

— DC Perry (@dcperry) April 13, 2021
Adnan Virk may not have the experience calling WWE action, but he must attempt to get a lot better than he is right now. Currently, his commentary gives vibes of an MLB commentator on WWE programming.
ADVERTISEMENT
Article continues below this ad
Vince McMahon, Gorilla Monsoon, Jesse 'The Body' Ventura, 'Macho Man' Randy Savage, Jim Ross, Jerry Lawler, and more have all been the voice of Raw in the past. Virk is following a legacy of the who's who in sports entertainment, and we hope he gets better with each passing week.
Practice makes a man perfect, and hopefully, it'll make Mr. Virk almost perfect, too! Did you enjoy Adnan Virk's commentary on Raw? Let us know in the comments below!
ADVERTISEMENT
Article continues below this ad