Fans Furious With WWE for the Booking of Sasha Banks and Bianca Belair Ahead of WrestleMania 37
Published 03/22/2021, 2:05 AM EDT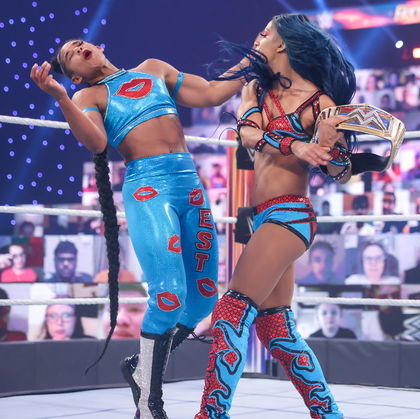 ---
---
WWE Fastlane kicked off with the Women's Tag Team Championship match. Shayna Baszler and Nia Jax defended their titles against WrestleMania opponents Sasha Banks and Bianca Belair. After several misunderstandings during the match, Sasha's arrogance came back to bite her as she got pinned in the title match.
ADVERTISEMENT
Article continues below this ad
WWE fans unhappy with Sasha Banks vs Bianca Belair booking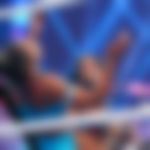 ADVERTISEMENT
Article continues below this ad
After the match, she got in Bianca's face and blamed her for making a rookie mistake. As Bianca defended herself with the Boss in her face, she ended up at the receiving end of a slap from Banks.
The Boss escaped the ring before Belair could come back at her, but the EST of WWE soon realized she'd get her turn at WrestleMania.
WWE has a slam dunk WrestleMania main event in Sasha Banks and Bianca Belair, and making them look as bad as possible in the weeks leading up to the show is their idea of a good build.

— Sean Ross Sapp of Fightful.com (@SeanRossSapp) March 21, 2021
I said this a few weeks ago and stand by it. The booking of Bianca Belair vs Sasha Banks is so horrible that I'm starting to think it's intentional to sabotage them. #WWE

— Raphael Garcia (@RGarcia_Sports) March 20, 2021
Fans absolutely disliked this booking scheme from WWE. Instead of allowing Banks and Belair to build a rivalry and make it more personal and meaningful, WWE stuck them together against Nia Jax and Shayna Baszler.
No offense to the tag champs, who have been fantastic in their role, but they deserve better than being plot devices in this meaningless rivalry.
Instead of building up the Sasha Banks and Bianca Belair feud we watching Nia Jax….. #SmackDown

— Heel Zack👹🇿🇦 (@ZackWrestlingX_) March 20, 2021
Will Bianca Belair vs Sasha Banks be a great match? Of course it will. But the build so far isn't main event worthy.

It's just the truth. pic.twitter.com/tXaPVskl0T

— David (@LordFrenchFries) March 16, 2021
With the slap, fans believe Bianca Belair will find that edge she desperately needs to look better than Sasha Banks. The SmackDown Women's Champion has buried her WrestleMania challenger multiple times on both PPV and SmackDown. Even at Elimination Chamber, Banks made Belair look bad when the loss was her fault.
I've done a little bit of booking how I would start the Bianca Belair/Sasha Banks feud.

It's by no means perfect but it's meant to build tension between the two, show Bianca's core strength and treat Sasha as a tweener who bends the rules to fit her narrative. pic.twitter.com/L0nqs5rwly

— Harry (@hazzaricks) March 14, 2021
Twitter was furious with the booking of this rivalry and let WWE know about their frustration too.
Will this match main event WrestleMania?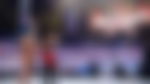 ADVERTISEMENT
Article continues below this ad
So far, WWE has three matches on their card which can main event either night. WrestleMania 37 will be the second WrestleMania to be a two-day event. This is a fabulous idea and allows the thirteen or fourteen-match card to carry on smoothly without fans getting bored and tired.
The WWE Championship match between Bobby Lashley and Drew McIntyre has tremendous main event potential. While Night 2 is going to Roman Reigns and Edge, Lashley and McIntyre can salvage a main event spot. Unfortunately for the boys, they go up against a Royal Rumble winner and the MVP of the WWE Women's division.
Sasha Banks vs Bianca Belair hasn't been booked well, but it holds tremendous main event potential. Sasha Banks has shot into superstardom after her SmackDown Women's Championship win, while Bianca Belair is simply one of the most gifted athletes on the roster. Put them together and you have a legitimate WrestleMania main event.
ADVERTISEMENT
Article continues below this ad
Read More: From WrestleMania to Hell in a Cell; The Best Matches of Sasha Banks in WWE