Fans in Awe After Technical Masterpiece Between Pete Dunne and Kushida at NXT TakeOver: Stand and Deliver
Published 04/07/2021, 9:30 PM EDT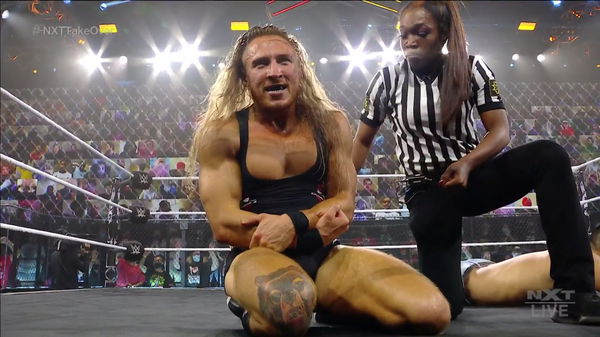 ---
---
Night 1 of NXT TakeOver: Stand & Deliver opened with an instant classic between Pete Dunne and Kushida. The match had no special stipulations. It was just another traditional match, and both men showed why they're technical wizards of the squared circle. The match had some innovative moves and moments that left us wanting more. Not just us, but fans too!
ADVERTISEMENT
Article continues below this ad
Pete Dunne and Kushida leave fans wanting for more at NXT TakeOver!
The 'Bruserweight' and the 'Time Splitter' simply stole the show right from the get-go. They complimented each other superbly, and it showed in their work in the ring. Fans across the globe voiced their opinion on the Pete Dunne-Kushida match on Twitter. And it's safe to say, everyone loved it.
ADVERTISEMENT
Article continues below this ad
Dunne and Kushida delivered big. Would love to see them in an Iron Man Submission Match in the future. #NXTTakeOver

— Kevin Lainez (@KevinL007) April 8, 2021
KUSHIDA/Dunne was ROCK solid. Super good, focused opener. It's amazing how they've turned around KUSHIDA from floundering to coming across as a legitimate big time performer in 2 TakeOvers. Now we just need him to win. Loved this, started off things hot. #NXTTakeOver

— Travis McNeill (@hashtagtravisty) April 8, 2021
Another Twitter user pointed out how Kushida-san helps in elevating stars. But he did so citing the example of Kushida and Kenny Omega's matches in NJPW in 2015. Well, we don't disagree either!
Kushida has that ability to take someone who's already very good and make them look great. He helped Kenny Omega so much in 2015 and helped get Kenny to the next level. Consummate pro https://t.co/wkOjyNEQOy

— ThatCaneClay 🙌🏆 (@cfhell31) April 8, 2021
Dunne and Kushida raise the bar!
I really enjoyed Dunne vs. Kushida.
Granted, that shouldn't be a surprise to anyone. Both are some of my favorite NXT guys. #NXTTakeOver

— Chris Stall (@imchrisstall) April 8, 2021
ADVERTISEMENT
Article continues below this ad
Both men stunned fans across the globe with their match. The storytelling was simple, and they really played onto it. In fact, another user praised the match and added how he would've preferred having the match end with submission after the story they told in the ring. We guess this will happen soon!
Kushida is so ridiculously good, and Pete Dunne was perfect as an opponent to him. The counters in this match were so smooth. What a war. Just wish it had been submission only for the finish. #NXTTakeOver

— 🖤 Kevin Berge 🖤 (@KevinBerge) April 8, 2021
Pete Dunne and Kushida put on an instant classic tonight. Yes, Dunne may have walked out with the victory this time around, but we're sure Kushida will look to even the score. After all, do you'll really think these two technical wizards won't square off again after a show-stealer?
ADVERTISEMENT
Article continues below this ad