Five Craziest Cheat Meals from Dwayne Johnson's Diet Plan
Published 06/08/2021, 1:21 AM EDT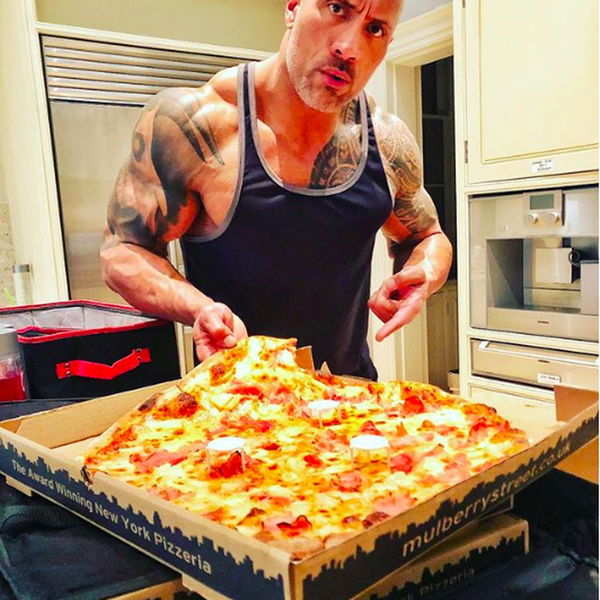 ---
---
WWE Superstars have to follow a strict diet to maintain their physical well-being. As for The Rock, he has a secret that no other wrestler follows to get shredded. Even at 49, Dwayne Johnson has the body that puts twenty-year-olds to shame, but he also has his cheat meals.
ADVERTISEMENT
Article continues below this ad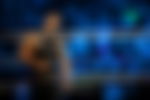 The Rock often posts pictures of his cheat meals, and fans' mouths salivate at the mere sight. Brought to us by the Food Network, these are the best and most delicious cheat meals of WWE Superstar and Hollywood actor Dwayne "The Rock" Johnson.
ADVERTISEMENT
Article continues below this ad
Pancakes and tequila
A strange combination, but The Rock knows how to wind down after a busy, hard-working day. In his caption, he explained the weirdness, but the sheer volume of the meal.
"Huge stack of banana, chocolate chip pancakes. Pure Canadian maple syrup, jar of crunchy peanut butter ready to be slathered all over the cakes and a double shot of tequila on the side. And a great doc on the history of the Irish American Mob."
Dwayne Johnson is a sushi guy
Sushi has grown into a very popular dish, even in the eyes of a 250-pound man. The Rock may not seem like a sushi person, but he's revealed that it is a cheat meal.
Dwayne Johnson also showcases his bravery with huge chunks of wasabi in his soy sauce bowl. A true legend, in the ring and even on the dinner table.
A crazy amount of French toast and Apple Pie
Eight slices of French toasts is too much, but accompanying it with Apple pie is crazy. "Yeah so this cheat meal went down at 11:45pm last night. 8 slices of sour dough French toast topped with loads of apple pie. Sat on the couch like the big, brown, bald, tattooed glutinous version of Jabba The Hutt and watched the Force Awakens again."
"It was my Christmas gift to myself and I want everyone out there to remember one of our golden rules during the holidays, "Don't cheat yourself, treat yourself". We should all tattoo the words, "Don't cheat yourself, treat yourself," on our body; the best self-care quote ever.
Two GIANT turkey subs and fudge brownies, all for Dwayne Johnson
The perfect embodiment of the term 'cheat meal'. One turkey sub would set a guy up for the entire day, but a monster like Dwayne Johnson needed two, and fudge brownies to flush it down.
"Huge turkey subs – oven roasted turkey, provolone cheese, lettuce, tomato onion and mayo on the side. Huge fudge brownies with milk chocolate chips, natural peanut butter and fudge smothered and drizzled on top. A beautiful night of decadence and sin and by 2am I was drenched in sugar sweats trying to sleep. But much like the many addictions I have in my life – the going up is always worth the coming down."
Two-pound steak and baked potato
According to Dwayne Johnson, steak, baked potato, and Netflix is a beautiful combination. The meal that perfectly resembles The Rock's cheat meal has gotten all of us salivating. But with a routine like his, a meal like this would be devoured in no time.
He also revealed some cheeky information about his college days in the caption. "For the record, "Bone In Ribeye" was my nickname in college on Saturday nights. TMI."
Watch this Story: Six Superstars WWE Legend The Undertaker Trapped in His Casket
Dwayne Johnson's ultimate cheat meal
ADVERTISEMENT
Article continues below this ad
After an intense day of working, The Rock decided to have a GIGANTIC cheat meal. After five months of clean diet, Dwayne Johnson devoured twelve pancakes, four double dough pizzas and twenty-one brownies. He even confirmed the news piece on his Instagram, which came after the filming of Hercules.
ADVERTISEMENT
Article continues below this ad
He went 172 days without a cheat meal to get a body like Hercules, the Greek God, and boy did he look perfect for the role.