Five Reasons WWE Will Regret Firing Samoa Joe
Published 04/27/2021, 8:00 AM EDT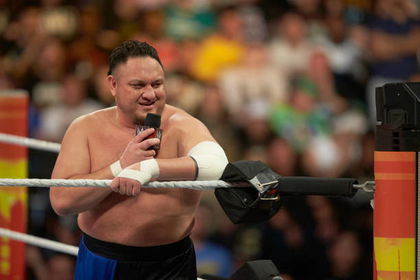 ---
---
Samoa Joe was already a well-established name in the wrestling business prior to his WWE run. Joe walked into NXT like the hottest commodity in wrestling, and his subsequent run reflected it. Unfortunately, his awesomeness didn't translate to a successful main roster run and WWE released in April 2021.
ADVERTISEMENT
Article continues below this ad
Although WWE will continue to chug along without Samoa Joe, there are a bunch of reasons they will regret it. We've managed to concise it to five, so here are five reasons WWE will regret releasing Samoa Joe.
Two-time NXT Champion
ADVERTISEMENT
Article continues below this ad
Samoa Joe was the first two-time NXT Champion in WWE history. No man won the title twice, although now Shinsuke Nakamura, Finn Balor and Karrion Kross have achieved that feat. Joe's run with the belt began in the most explosive way possible, beating Finn Balor at a random house show to end his mammoth 292-day reign.
He then became the first person to beat the Demon King in WWE, humbling him in a steel cage war at Takeover: The End. Although Nakamura beat him at a Takeover: Brooklyn, he regained the title from him at Takeover: New York in 2016. To this date, Joe's run as NXT Champion remains the most dominant.
Samoa Joe vs Brock Lesnar
If there was ever a rivalry that deserved all the hype in the world, it is the Samoan Submission Machine vs the Beast Incarnate. Brock Lesnar vs Samoa Joe may have taken place on a B-grade PPV called Great Balls of Fire, but it's the best booked WWE PPV main event in the past decade.
Joe beat four other Raw superstars to win a shot at the Beast's Universal Championship. Unlike other members of the Raw roster, Joe didn't step back from Lesnar, but took the fight to him. On his first night at #1 contender, Joe delivered a superkick to Lesnar's face that sent him reeling.
Joe even put the Beast's advocate Paul Heyman to sleep, angering Brock even more. However, Joe shocked the world by putting Lesnar to sleep on an episode of Raw. While Brock might've won the match at Great Balls of Fire, Joe remains the only man to strike fear into the heart of WWE's most feared competitor.
Watch the video above to see Joe's intensity as he refuses to back down from Brock Lesnar and even insults him to his face.
AJ Styles vs Samoa Joe
Joe played Brock Lesnar's equal in their feud during the summer of 2017, but his rivalry with AJ Styles in 2018 had a different dynamic. The Samoan Submission Machine tried to put Styles out of commission while tormenting his wife and kids.
Their match at SummerSlam 2018 was so good, fans began chanting 'TNA' at the former TNA World Champions. With Styles incapacitated, Joe climbed atop the announcer's table, looked and Styles' wife and said, "Hey Wendy, I made you a promise. Daddy was coming home. It looks like he's not, but I'll be your new daddy."
Their matches were intense, but their rivalry brought the actual fire. After the SummerSlam classic, they faced at three other PPVs, where Styles beat Joe cleanly. This rivalry put Styles in a new category of WWE Champions, but it made Joe the biggest star in WWE.
A fantastic commentator
Not only did WWE lose a fantastic wrestler, dominant character, and one of the most terrifying men in wrestling, but also a great commentator. Samoa Joe was a tremendous addition to the announcer's table. He used his knowledge of the business to make some great calls and build his chemistry with Michael Cole and Corey Graves on Raw.
Unfortunately, WWE wouldn't allow him to wrestle again and intended to keep him tied to the commentary team. If not wrestling, Joe would've continued to add to the Raw commentary team's value. His loss was so significant, WWE had to move Corey Graves from SmackDown to Raw.
Graves ironically is another wrestler who's career ended, and he joined the WWE announcer's desk.
Will Samoa Joe help AEW overtake WWE?
ADVERTISEMENT
Article continues below this ad
It's already mentioned in the beginning, Samoa Joe was a well-established name before his WWE run. He held titles in Ring of Honor, TNA,  and Pro Wrestling NOAH. His matches with CM Punk, Kenta Kobashi, AJ Styles and Christopher Daniels made him one of the top pro wrestlers in the world.
If Joe's talents aren't valuable to WWE, there a myriad of companies that would benefit from them. The biggest one is potentially AEW, who has greatly benefited from signing ex-WWE talent. Two of their three AEW Champions have been former WWE Champions, and their first TNT Champion held the Intercontinental Championship twice.
Will Joe help AEW overtake WWE in terms of viewership? If that happens, WWE will truly regret firing one of the most talented people in the industry:- a wrestling genius, a magician on the mic, and a legit bada**.
ADVERTISEMENT
Article continues below this ad