Five Times AEW Mocked WWE and Triple H at AEW Double or Nothing 2019
Published 05/27/2021, 10:35 AM EDT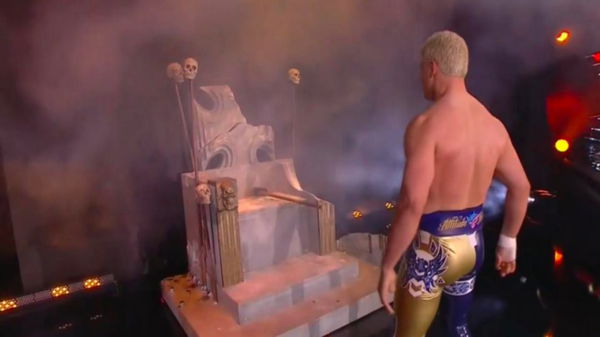 ---
---
The rivalry between WWE and AEW has blossomed into a very enjoyable ratings war. Both companies put in 100% and deliver terrific PPVs. However, one PPV stands out in this war, and it is one even NXT won't top soon. We're talking about Double or Nothing 2019, the PPV that began the All Elite Era.
ADVERTISEMENT
Article continues below this ad
During Double or Nothing, there were several moments that made fans go, "Wait, have I seen this before?". Yes, we're talking about the times AEW mocked WWE during Double or Nothing.
AEW Casino Battle Royal copies the Royal Rumble
ADVERTISEMENT
Article continues below this ad
Unlike a regular Battle Royal which features every competitor in the ring at once, the Royal Rumble sees wrestlers enter at 90 second intervals. We've seen NJPW copy that concept with the New Japan Rumble which takes place at Wrestle Kingdom. However, we saw AEW apply the concept at Double or Nothing.
The Casino Battle Royal featured wrestlers entering the ring according to the card they chose from a 'special deck'. The suit of card they selected determines their entry into the match. Every three minutes, a different suit would enter the match until the wrestler who picked the Joker card enters last.
The concept is a complete rip-off of the Royal Rumble, with the Joker card representing the coveted #30 spot. Even choosing a card from a deck is like when WWE had their superstars pick their spot from a roller.
Nick Jackson recreates iconic HBK moment
At Cyber Sunday 2006, Shawn Michaels went on a superkick spree backstage to prove he's controversial. One poor soul to receive a superkick from HBK was Shawn Spears, known back then as 'Stan'. To prove he's controversial, HBK delivered a thunderous Sweet Chin Music to Spears.
At Double or Nothing, Nick Jackson recreated his childhood hero's iconic moment when he superkicked a stagehand when he asked him for credentials. The irony is that the Shawn Spears made his AEW debut at the Casino Battle Royal and the fans serenaded him with '10' chants.
Cody Rhodes ends the Game
Of course, this moment had to come. Cody Rhodes entered Double or Nothing with a throne, akin to his former employer and on-TV rival Triple H. This seemed weird because Cody didn't sit on the throne, which meant it was there for some other purpose.
He walked to the ring and grabbed a sledgehammer, Triple H's trusty weapon, and used it to smash the throne. A tiny explosion followed by smoke rising from the flimsy throne was the first shot fired by AEW towards WWE.
Cody also posed like Shawn Michaels does and even kissed the ring. His wife, Brandi, could be heard saying 'Bring it down!', the introduction to the DX theme song. He even wore a weight belt that read 'Attitude Killer', which meant he wanted to kill the Era his brother belonged to.
Bret Hart shows up in an AEW ring
WWE legend and Hall of Famer Bret Hart appeared at Starrcast and similar events that took place ahead of Double or Nothing. However, no one expected him to unveil the brand new AEW World Championship along with comedian Jack Whitehall.
Hart came down to the ring holding a bag and pulled out the huge and sparkly AEW World Championship. The belt literally put every WWE belt to shame, serving the horrific reminder of the ugly Universal Championship unveiling to WWE fans.
Chris Jericho's first AEW entrance
ADVERTISEMENT
Article continues below this ad
The song 'Judas' by his own band was the perfect entrance theme for the first ever AEW World Champion. However, Chris Jericho went a naughtier way at Double or Nothing 2019.
Jericho mocked each of his past entrances and gears, ranging from his iconic light-up jacket to the List of Jericho. We even saw the Lionheart gimmick from WCW. He teased all his previous gimmicks before unveiling his authentic form as AEW's Painmaker.
ADVERTISEMENT
Article continues below this ad