Former IC Champion Sami Zayn Threatens to Expose the Conspiracies in WWE
Published 01/13/2021, 7:00 AM EST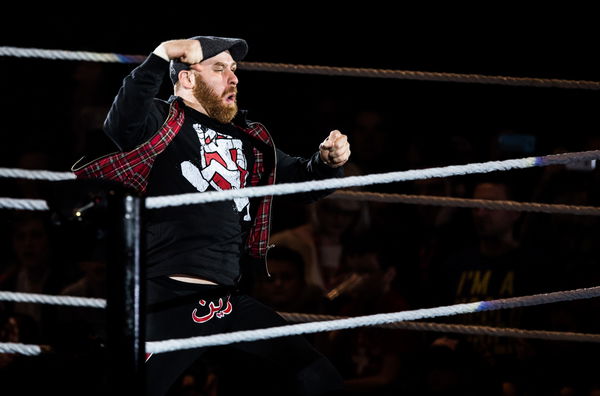 ---
---
Sami Zayn's delusional run in WWE continues as he claims the WWE is conspiring against him. The former Intercontinental Champion has been one of the most underrated superstars in WWE, but his recent run reflected the opposite. His run as Intercontinental Champion showed the confidence the WWE had in him, but Sami Zayn still does not buy into that story.
ADVERTISEMENT
Article continues below this ad
Sami Zayn asks fans for help
I am making a documentary exposing the conspiracy by @WWE against me.
It's clear there was a coordinated effort to oust me as Intercontinental Champion.

Since wrestling fans have great memories, can you think of instances where WWE stacked the deck against me over the years?

— Sami Zayn (@SamiZayn) January 12, 2021
ADVERTISEMENT
Article continues below this ad
On Twitter, Sami asked his followers and fans to list the moments where WWE stacked the odds against him. Sami feels that the WWE is purposely holding him back. He believes it is clear that WWE hatched a plan to have him ousted as the Intercontinental Champion.
A couple of weeks ago, Big E beat Zayn for the Intercontinental Championship in a lumberjack match. Towards the end of their clash, Sami tried to escape through the lumberjacks, but Apollo Crews interrupted his escapade. Along with several other superstars, he threw him back into the ring.
Big E capitalized on the opportunity and unleashed a flurry of offense on the champion. One Big Ending later, we had a new Intercontinental Champion. Zayn sold the loss as if he lost the FIFA World Cup or the Wimbledon Finals.
Since losing the championship, Zayn has been treading water on SmackDown. Apollo Crews received a title shot before he received his rematch. Will Zayn create his documentary first, or will he receive another title shot before that?
What's next for Sami?
ADVERTISEMENT
Article continues below this ad
After losing his title, Sami Zayn is quite directionless. The Intercontinental Championship was the only thing that kept Zayn relevant in WWE. But now he is dipping his toe in the obscurity pond.
Zayn is a fantastic heel, but like every movie villain, he needs a powerful hero to remain relevant. Big E was a good enough foil for Zayn, but he clearly deserved to become the IC Champion. While Zayn was good, Big E is significantly more deserving of holding the title.
Sami can move on to a different feud against another babyface. The best possible feud for Zayn to have at WrestleMania is against Kevin Owens. Since losing to Roman Reigns, KO is also as directionless as Sami.
ADVERTISEMENT
Article continues below this ad
It makes all the sense in the world to have the two former friends rekindle their rivalry with the roles reversed. Their rivalry deserves the WrestleMania stage.