Former Superstar Reveals WWE Fined Him for the Most Bizarre Reason
Published 05/08/2021, 9:15 AM EDT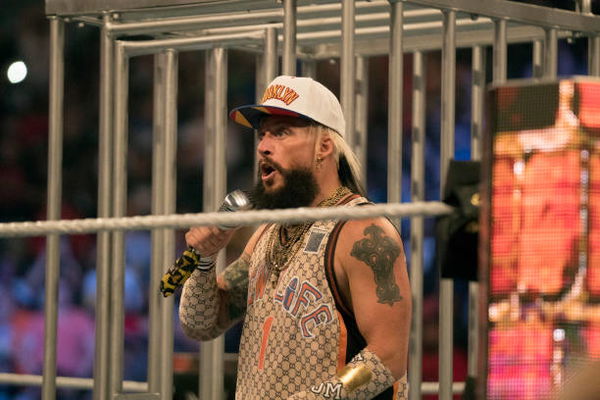 ---
---
Enzo Amore had a decent WWE career until it all came crashing down. Fortunately, the rapper/wrestler bounced back and is doing well. On his Twitter, Enzo revealed the time WWE fined him for the most bizarre reason.
ADVERTISEMENT
Article continues below this ad
Enzo Amore fined for the most bizarre reason
ADVERTISEMENT
Article continues below this ad
Former WWE superstar and current AEW talent Tazz posted a random tweet, simply stating, 'I just farted.' Amore responded to the tweet, putting out his own story relating to flatulence.
Apparently, he received a $250 fine for farting during promo class at the WWE Performance Center. He calls it the 'most expensive fart in the history of the business'. It's also the most bizarre fine imposed on a WWE talent, whether backstage management, superstar or referee.
I got fined $250 for that in "promo class" once …. most expensive fart in the history of the biz.

— #nZo (FKA Enzo Amore) (@real1) May 7, 2021
His WWE career ended controversially, too. Sexual assault allegations led to WWE firing Amore since the company has a no-tolerance policy towards such issues. However, the Phoenix Police Department dismissed the case in 2018, and Amore has denied the charges completely.
He enjoyed a run with the WWE Cruiserweight Championship before his firing. After WWE, he appeared in Northeast Wrestling along with his former partner Big Cass. Now, both Enzo and Cass have new ring names and new careers.
Enzo's WWE run
Debuting on the night after WrestleMania 32, Enzo Amore and Colin Cassidy interrupted the Dudley Boyz and cut a daring promo. Having enjoyed a decent run in NXT where they won the NXT Year End's most Popular Tag Team Award, they debuted on Raw with all the hype in the world.
ADVERTISEMENT
Article continues below this ad
Within a few months, Enzo and Cass teamed up with John Cena against AJ Styles and the Good Brothers at the Battleground PPV. Since then, Enzo and Cass became one of the most popular teams on the roster. Unfortunately, their popularity did not translate to any tag team gold, and the team split in 2017.
Cass betrayed Enzo and beat him senseless frequently. This relegated Enzo to the Cruiserweight division, where he beat dominant champion Neville, now AEW's Pac, to win the title.
Unfortunately, the untimely firing led to him vacating the title and him being out of a job. Right now, Enzo is a wrestler and a successful rapper, under the name nZo.
ADVERTISEMENT
Article continues below this ad