Former WWE Commentator Breaks Silence Following Sexual Misconduct Allegations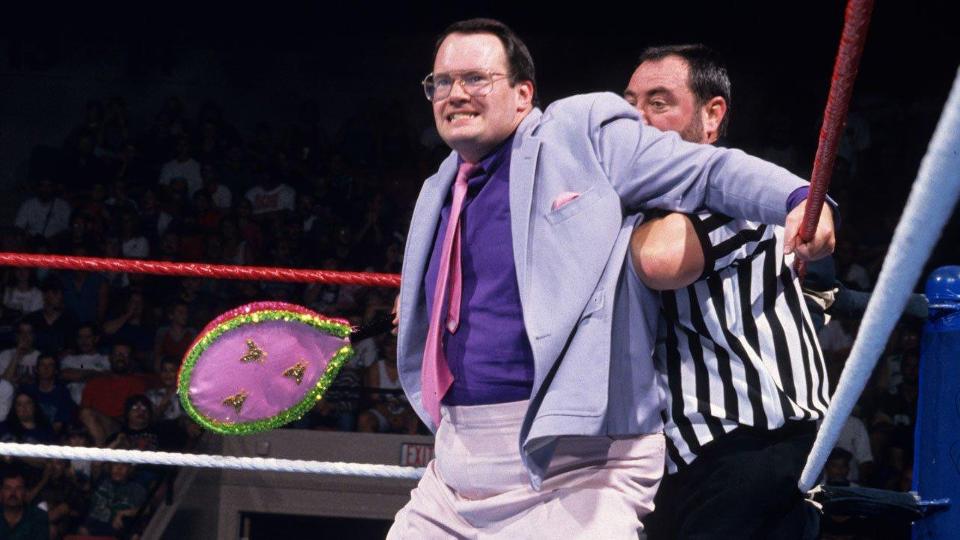 Over the past few days, some WWE Superstars and professionals have been accused of sexual abuse. The latest of the lot being Jim Cornette, an ex commentator of WWE who has been accused along with his wife. Cornette has replied to the said accusations on Twitter.
Cornette's comments were sarcastic to say the most. He says that he has to be made the center of attention of fake news to make others famous. His wife has not responded to any of the allegations so far.
Morning all–I know that my name has to be involved in everything because it gets attention, but I'm too busy running a pizza parlor from the basement of my pedophile ring to make any twitter goofs and their 700 fake accounts famous today.

— Jim Cornette (@TheJimCornette) June 19, 2020
In a subsequent tweet, Jim Cornette says the people who faked the screenshots should not be using the person's profile picture that's only a week old. Several people on Twitter replied to the Tweet asking Cornette if he knows how these things work. Certainly, a screenshot that was taken recently would have the recent profile picture. 
Helpful hint: I have been told that when you're faking screenshots of something that "happened" years ago, you shouldn't use the person's profile picture that's only been up a week and a half. It's the little things, but that's for attorneys to discuss.

— Jim Cornette (@TheJimCornette) June 19, 2020
According to Wrestlezone, his attorney has revealed that Cornette will address the issue on Drive-Thru on Monday. 
The allegations against Jim Cornette
The allegations were made by Indie Wrestler Phil Earley. The incidents he stated date back to the time when Cornette was in charge of Ohio Valley Wrestling.
The said developmental center was part of WWE then. Jim Cornette was one of the prominent persons when it came to bringing up new talents. 
Phil Earley has spoken about how Cornette and his wife allegedly 'groomed' him. He says that Cornette's wife Stacey would send him images and wanted to have sexual intercourse with him. 
She approached via DM, sent me lewd photos I never asked for, implied protection from the Kentucky commission (stating he was a family friend), and told me she WAS going to fuck me, as if I didn't have a choice.

My experience with them is tame compared to others, though /2

— AKI Evolution (@AKI_Evolution) June 18, 2020
This will probably ruin a lot of opportunities in wrestling, and that's fine, but make no mistake: Jim Cornette is trash. He and his wife have made power plays in order to hurt many, many people.

Fuck you Jim. Fuck you Stacy. You are scum.

— AKI Evolution (@AKI_Evolution) June 18, 2020
He also mentions that in order to have a contract on OVW, Cornette would ask the performers to engage in sexual activities with his wife.
Earley added that a number of his friends suffered the same fate. Since then, Mike Braddock has also voiced his ordeal. 
Jim Cornette sent Stacy after me to recruit me. Told me about how her and Jim had discussed and were curious about my sex life. I didnt take the bait. I went on to draw the biggest house OVW had ever seen in the Davis arena. Multiple times.

— Mike Braddock (@IronMBraddock) June 19, 2020
At the time no. I was just informed and showed proof of their worst behavior recently. I didn't think much of the advance at first. It's how hes acted and how theyve treated others since that made me take notice.

— Mike Braddock (@IronMBraddock) June 20, 2020
The matter will be taken to court
Nothing has been proven as of yet. The screenshots that were posted on social media have raised some eyebrows. Cornette has denied every allegation, however, indie circuits have stood their ground.
Since Cornette has decided to face the issue on legal grounds, the accusers would be proving their points in front of a jury.
Leave your thoughts on the issue down in the comments.