Former WWE Superstar Andrade Teases "New Beginnings" with a Cryptic Tweet
Published 04/02/2021, 10:32 PM EDT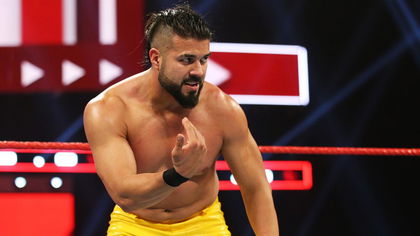 ---
---
Following his release from WWE, Mexican superstar Andrade has signed a new contract. The former United States Champion shared the update on his social media.
ADVERTISEMENT
Article continues below this ad
WWE released Andrade during Fastlane after the Superstar had requested his release from the company. Interestingly, he left without the standard "90-day no-compete" clause, meaning he was free to sign with whoever he wanted immediately after his release.
The Superstar teased new beginnings following his release. He stated he was in talks with someone. Andrade shared the picture with the caption, "New Beginnings! Un nuevo Comienzo! #TheWorldIsMine #ElMundoEsMio."
ADVERTISEMENT
Article continues below this ad
The paper appears to be blank without any name of any promotions.
Andrade reveals the behind-the-scenes of his release
In a recent interview, Andrade revealed what went behind his release. Despite being one of the most hard-working superstars on the roster, Andrade was not used properly.
Despite the plans for a rivalry with Drew McIntyre, Andrade was left alone. From his push into the main roster, he earned a lot more than his contemporaries, but he was unhappy.
"I've been with WWE. I had a great contract with WWE, a great contract. Three million per year. Several million dollars per year, a lot more than plenty of guys coming up from NXT. I heard about some of those contracts. I made a lot more than those guys," he said.
ADVERTISEMENT
Article continues below this ad
Despite going on a lot of cash, he was happy to leave. As he said, "When the pandemic started, they put me with Drew McIntyre. Drew was great with me and behaved well with me in NXT and on the main roster. We had the matches, and a producer came to me and said, 'Make sure Drew looks like a monster because he's the champ.'"
However, Drew never pressured him for a spot. He and Randy Orton constantly pushed him to be better. "A lot of people treated me well, Drew too, and Randy Orton. [Randy] would ask me, 'Why aren't they using you?' I didn't know what to say and didn't know what was going on. After that, I made the decision [to leave]."
What do you think is going on with Andrade? Has he signed up with AEW/ Or is he going on an entirely new adventure? Let us know your thoughts in the comments below.
ADVERTISEMENT
Article continues below this ad