"He Doesn't Have Brock Lesnar's Size"- Former WWE Superstar Gives His Honest Thoughts on CM Punk
Published 12/31/2020, 9:03 AM EST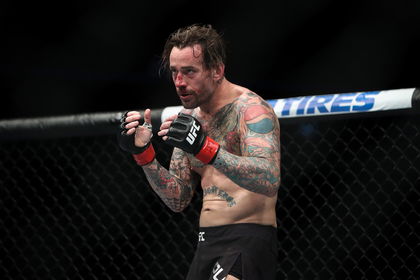 ---
---
Former WWE superstar Mike Knox weighed in on CM Punk's decision to quit the WWE. The former WWE Champion would try to make a career in MMA, but his UFC stint was nothing short of disastrous. In an interview with Dr. Chris Featherstone, Mike Knox praised CM Punk for his brave decision to pursue a career in the UFC.
ADVERTISEMENT
Article continues below this ad
Mike Knox praises the former WWE Champion for joining UFC
ADVERTISEMENT
Article continues below this ad
"Great outside the ring. Great guy. You know what I mean? People kind of give it to him a little bit because he went to UFC, and he was trying to fight, and I was like, that takes a lot of heart and takes a lot of guts."
Knox's words ring true, especially in terms of how little experience Punk had before going into the UFC.
"He doesn't have Brock Lesnar's size. He wasn't wrestling since he was born. Shooter style, you know what I mean? But he did it, man, and he made some money, and god bless him. I wish him nothing but success, man. After that first match, we were pretty solid, man."
Knox makes a fair point about Punk not having Lesnar-like attributes. Unfortunately for Punk, Lesnar's size wasn't the only thing missing.
Punk had very few attributes that would've made him successful in the UFC. He lacked a certain explosiveness that most UFC fighters have.
Knox pointed that Punk also lacked Brock Lesnar's rich combat sports background. Lesnar was a former NCAA Champion while Punk was wrestling in people's backyards before making it big.
The WWE career of CM Punk
Despite the derailment of his career, CM Punk will always be one of the most beloved Superstars in WWE history. The Chicagoan was constantly the center of attention in WWE and even during his days in Ring of Honor. His talent, combined with his stubborn persistence, made him a main eventer in no time.
Punk would hold the World Heavyweight Championship twice before entering the WWE Title picture. When he entered the picture, he left an indelible mark on the title's legacy.
Punk would also have a 434 day reign with the WWE Championship, the longest reign in modern history. Unfortunately, Punk's WWE career had a dark underbelly that fans did not know.
ADVERTISEMENT
Article continues below this ad
After several concussions, issues with management and once more losing out on a WrestleMania main event, CM Punk quit the WWE in 2014. After quitting, Punk began training for a career in the UFC at Roufusport MMA Academy.
In his debut fight, Punk suffered a humiliating loss to Mickey Gall. The match against Mike Johnson was such a disgrace that both fighters were shown the door by the UFC.
ADVERTISEMENT
Article continues below this ad
Punk is now a commentator for another combat sports company called Cage Fury Fighting Championships. His fighting career is inevitably over.