Former WWE Superstar Reveals Rare Unmasked Photo of Rey Mysterio
Published 09/21/2020, 1:51 AM EDT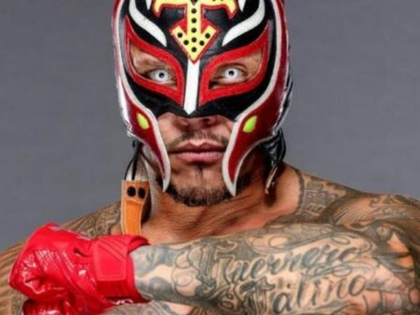 ---
---
Mask wearing WWE Superstars have always intrigued fan imagination. Therefore, whenever they are spotted without their in-ring mask, it's quite fascinating for the audience. Such is the case with Rey Mysterio.
ADVERTISEMENT
Article continues below this ad
In a recent tweet by Konnan (Charles Ashenoff), Mysterio was featured without his mask along with son Dominik Mysterio. Hilariously, the WWE audience was bitterly divided after the revelation of Rey Mysterio's face.
ADVERTISEMENT
Article continues below this ad
Some of them were of the opinion that this was not the WWE Superstar. Others were still in disbelief of the situation.
Now, considering Konnan is the one who put the picture to the platform, it is safe to assume that this is an authentic picture of Mysterio Sr. However, this photograph proves that Mysterio does not wear the mask all the time (a very weird but very real assumption by some fans).
Moreover, upon a closer look, it can be seen that Mysterio's eye is just fine! One wonders if the company will finally remove the black eye patch that Mysterio has sported since his match against Set Rollins.
Dominik reveals the plan Rey Mysterio has for Dominik
ADVERTISEMENT
Article continues below this ad
Konnan, who is also Dominik's godfather, has constantly praised him for his recent endeavors along with revealing the plans Mysterio Sr. had for his son. According to Konnan, since Mysterio always wanted his son to follow in his footsteps, Dominik always had that extra pressure.
In an interview, Konnan revealed the advice he gave to Dominik Mysterio on how to move forward.
"'Bro, you have such a beautiful dad, and the only thing he ever wanted for you to do was to wrestle. And now you're giving it to him. Because he didn't decide to wrestle till like, a couple years ago. He wanted to play football and do other stuff. And I said, 'Okay, so now there's a lot of pressure on you. People are gonna expect more because you're Rey Mysterio Jr. The main thing is to train, and stay humble.'"
ADVERTISEMENT
Article continues below this ad
Read Next: Roman Reigns Makes a Bold Statement Ahead of Clash Of Champions Match