Former WWE Superstar Trolls Brock Lesnar For His New Look
Published 07/13/2021, 3:55 PM EDT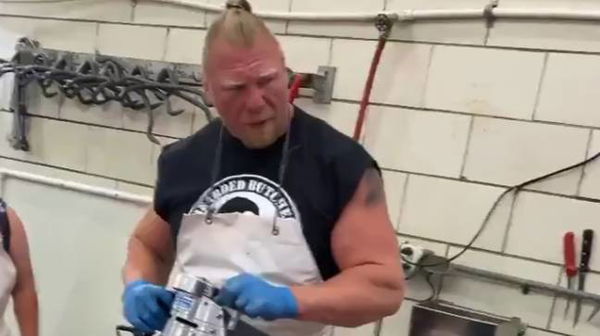 ---
---
Brock Lesnar hasn't stepped foot in a WWE ring for more than a year. He dropped the WWE Title at WrestleMania 36 and faded away completely. However, just because he isn't earning the big bucks from WWE, doesn't mean he isn't having a great time.
ADVERTISEMENT
Article continues below this ad
Former superstar trolls Brock Lesnar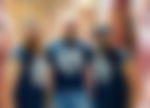 ADVERTISEMENT
Article continues below this ad
A bunch of images surfaced featuring Brock Lesnar with a bizarre hairdo. We've never seen Lesnar sport anything more than his usual buzz-cut, but the Beast now has a wild hairdo. The image features Lesnar with a ponytail chopping meat in a butchery.
On Bearded Butcher Blend, Brock Lesnar showed up to chop a large piece of meat with a chainsaw. Just as bada** as the chopping was Lesnar's ponytail. Many fans and wrestler reacted to Lesnar's wild look, especially Renee Paquette. She claimed the ponytail suited the Beast Incarnate.
Another hilarious reaction came from former WWE superstar Kevin Thorn, more popularly known as Mordecai. Thorn wrestled in the WWE from 2002 to 2005 and then returned for a run in ECW from 2006 to 2007. He even wrestled in WWE's developmental territories OVW (Ohio Valley Wrestling) and FCW (Florida Championship Wrestling).
Thorn took to Twitter to react to the Beast's hairdo. Responding to Kayfabe News who compared Lesnar's hairdo to his, he wrote, "I've been Beefing up!!" At 6'3 and 270 pounds, Mordecai was the same size and weight as Lesnar, but the Beast outdoes him in the muscular department.
Watch this story: The Most Extreme Moments from WWE Money in the Bank
Will we see Lesnar back in WWE?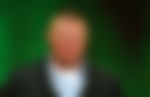 As mentioned earlier, Brock Lesnar hasn't stepped foot in a WWE ring since dropping the WWE Title to Drew McIntyre at WrestleMania 36. However, the return of fans to arenas and live shows commencing from this week, rumors about Lesnar's return become more and more plausible.
ADVERTISEMENT
Article continues below this ad
If WWE wanted to sell out SummerSlam at the Allegiant Stadium, they will have to bring back the former Universal Champion. In terms of potential opponents, there are a bunch of wrestlers waiting to fight the Beast. First in line is Bobby Lashley, who has been calling Lesnar out for years.
A WWE Title match between Brock Lesnar and Bobby Lashley would set the wrestling world on fire. If not Lashley, Lesnar can show up on SmackDown to reignite his rivalry with Roman Reigns. Facing the Tribal Chief would create an interesting dynamic, especially with Paul Heyman's allegiance on the line.
ADVERTISEMENT
Article continues below this ad