From Becky Lynch to the Rock- John Cena's Most Unforgettable Tag Team Partners in WWE
Published 02/24/2021, 6:30 AM EST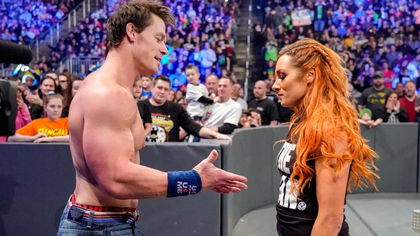 ---
---
John Cena does not strike you as a tag team player. However, the sixteen-time World Champion has won four tag team championships. The strange fact is that Cena has won four tag team titles with four different tag team partners. WWE's biggest superstar has teamed up with some of WWE's best superstars, but has had his fair share of strange partners.
ADVERTISEMENT
Article continues below this ad
John Cena is a four-time tag team champion
Cena won his first tag team championship with the legendary Shawn Michaels. HBK and Cena beat Randy Orton and Edge (Rated RKO) in 2007, on the Raw after the Royal Rumble. The tag team champions would face each other at WrestleMania 23, with Cena's WWE Championship on the line. Cena won the match by making HBK tap out to the STF.
ADVERTISEMENT
Article continues below this ad
John Cena won his second tag team championship with Batista in August 2008. Batista and Cena beat Cody Rhodes and Ted DiBiase Jr for the titles, but were unsuccessful in defending the titles the following week. They ended up facing each other at SummerSlam, with Batista beating Cena, who suffered a herniated disc during the match.
Cena's next tag title reign came with his strangest tag team partner. Cena joined Nexus after losing to its leader Wade Barrett at Hell in a Cell 2010. David Otunga became his tag partner, and the pair won the tag team titles at Bragging Rights, beating Cody Rhodes and Drew McIntyre.
Cena's last reign with the tag team championship came alongside the current WWE Champion The Miz. Miz and Cena won the tag titles from Heath Slater and Justin Gabriel, but the former champs invoked their rematch clause immediately and won the titles back. Cena and Miz faced each other in the main event of WrestleMania 27, where the latter shockingly beat the former after an interference from the Rock.
Other stranger tag team partners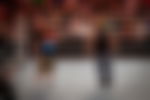 Apart from the aforementioned names, Cena has teamed up with some of WWE's biggest names, including two of his biggest rivals.
In 2011, Cena teamed up with The Rock at Survivor Series against The Miz and R-Truth. The Rock picked up the win with the People's Elbow and hit a Rock Bottom on Cena after the match. On March 17th, 2008, Cena teamed up with Randy Orton, to take on the entire Raw roster, The legends put in a brilliant performance before the match ended in a lame no-contest.
ADVERTISEMENT
Article continues below this ad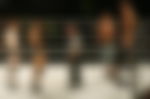 Daniel Bryan wrestled his last match in WWE before retiring in 2016 alongside John Cena vs Tyson Kidd and Cesaro. Last but not the least, who will ever forget the super-team of John Cena and 'The Man'.
Which of these tag teams do you remember the most?
ADVERTISEMENT
Article continues below this ad