From Drew McIntyre to Eddie Guerrero, Superstars WWE Re-Hired After Being Released
Published 05/13/2021, 10:00 PM EDT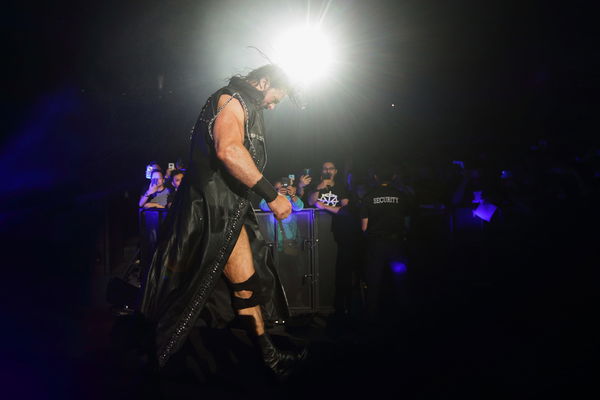 ---
---
Everyone makes mistakes, even the biggest wrestling company in the world. In the past, WWE has released talent only to hire them back when they've blown up on the independent scene. With news of Zelina Vega possibly returning to WWE, let's look at Superstars who WWE re-hired after releasing them.
ADVERTISEMENT
Article continues below this ad
WWE brings back the Chosen One
ADVERTISEMENT
Article continues below this ad
In 2014, WWE released Drew McIntyre after the Scotsman completed seven years with the company. He won the Intercontinental Championship and the Tag Team Championships, but his run with 3MB led to the company forgetting his potential.
He returned to the independent scene in the UK and completely transformed himself. McIntyre pumped iron and got ripped before WWE noticed him again. Having wrestled in AAW, ICW, TNA and ROH, WWE brought the Chosen One back in 2017. Four years later, he's a two-time WWE Champion, a Royal Rumble winner, a former tag champ and NXT Champion.
Viva La Raza comes back home
In 2000, a bunch of former WCW superstars debuted in WWE as the Radicalz. Amongst them emerged a Superstar who would become one of the most beloved names in wrestling, Eddie Guerrero. Unfortunately, his personal demons led to the company releasing him a year after he signed.
Eddie cleaned up his act and performed incredibly on the independent scene, forcing Vince to notice him again. In 2002, He re-signed Eddie, and he generated an excellent legacy. He held every title in the company, making him the sixth Grand Slam Champion.
WWE re-hires Daniel Bryan
In 2010, WWE hired the best independent wrestler in the world. Weighing a little over 200 pounds and standing at 5'10, Daniel Bryan looked like a jobber and not a main event star. He debuted along with the Nexus when they attacked John Cena. However, while the group destroyed the ring, Bryan tried to choke ring announcer Justin Roberts with his necktie.
Neither Bryan nor the company planned for that moment, and the former winged it on live television. Vince didn't think twice before releasing him but re-hired him a few weeks later. He rose to become one of the most popular Superstars of all time, and like Eddie, he also became a Grand Slam Champion.
The Hardy Boys return with a bang
After a decade of dominance as a tag team, Matt and Jeff Hardy split in search of singles success. Jeff won both WWE and World Heavyweight Championships during his run while his brother found success in ECW.
However, both brothers left the company, with Jeff leaving in 2009 and Matt in 2010.
At WrestleMania 33, the Hardy Boys made a gigantic return to WWE with a WrestleMania sized pop. They won the Raw Tag Team Championships in a ladder match at the PPV and even held the SmackDown Tag Team Championships during their run.
While Jeff continues to wrestle in the Thunderdome, Matt is now a part of AEW.
The Ultimate Warrior comes back to WWE
ADVERTISEMENT
Article continues below this ad
In the 90s, only one man rivaled Hulk Hogan to be one of the biggest Superstars of all time. The Ultimate Warrior was a genuine legend, but his career was marred with controversy.
In 1991, Warrior's relationship with Vince McMahon soured after he wanted a better pay. McMahon refused to comply, and he suspended him.
ADVERTISEMENT
Article continues below this ad
He quit WWE the same year but returned at WrestleMania in 1992 to save Hogan from Sid and Papa Shango. Unfortunately, his second one wasn't a great one either as he was back out of the company in 1996 after a horrible four years. However, Warrior and Vince buried the hatchet, and he entered the WWE Hall of Fame in 2014.