From Eddie Guerrero to Seth Rollins, Top WWE Superstars Who Have Defeated Brock Lesnar
Published 02/07/2021, 8:00 AM EST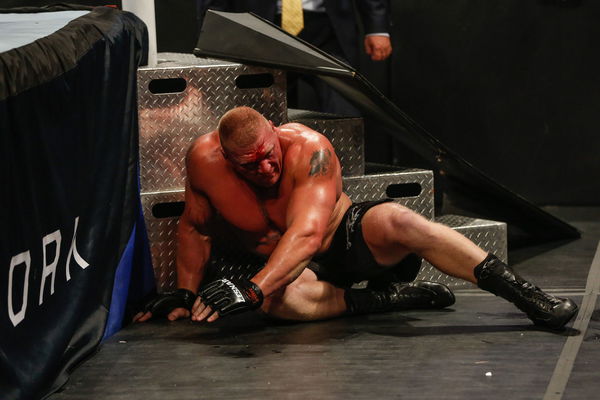 ---
---
Brock Lesnar was portrayed as an invincible beast throughout his tenure in WWE. As he was in the good books of Vince McMahon and as an immensely popular wrestler, he mostly won all of his matches.
ADVERTISEMENT
Article continues below this ad
However, there are some instances when even the 'Beast Incarnate' fell weak. The ones who beat Lesnar were top-tier Superstars themselves, and if not, they became legitimate Superstars after decimating the 'Beast.'
Let's look at some top instances where the "Beast" became human.
ADVERTISEMENT
Article continues below this ad
Big Show was the first Superstar to tame Brock Lesnar
The modern-era giant faced Lesnar in a title match at Survivor Series. Lesnar was about to win the match, but his 'manager' Paul Heyman betrayed him.
Lesnar came in with injured ribs but still gained leverage over Big Show. However, Show took advantage of Heyman's betrayal and hit Lesnar's rib with a chair. He followed it up with a chokeslam and won the match and the WWE title.
Following his loss to Big Show, Lesnar saw two losses in two years. Kurt Angle retained his WWE title after making Lesnar submit to the Ankle lock.
At No Way Out 2004, Eddie Guerrero surprisingly defeated Lesnar. Guerrero won his first and only WWE Championship with this victory.
Brock Lesnar has been defeated more in the PG Era
Towards the end of the Ruthless Aggression Era, Lesnar left WWE for UFC. After being hugely successful in the octagon, Lesnar returned to WWE in 2012.
As the then-RAW General Manager wanted him to be the 'new face' of WWE, Lesnar went head to head with John Cena. Their feud culminated at Extreme Rules 2012, when Cena defeated Lesnar in an extreme rules match.
Lesnar had a long feud with Triple H. What started as a disagreement over contracts soon turned into a fight for greatness. The feud saw Lesnar busting his head open and Triple H's career being on the line. It ended when 'The Game defeated Lesnar at WrestleMania 29.
Ending The Undertaker's formidable streak will always be one of Lesnar's greatest achievements. However, 'The Deadman' got his revenge when he cost Lesnar a title opportunity at Battleground.
Undertaker and Lesnar then settled the score at SummerSlam 2015. Undertaker delivered a low-blow to Lesnar before putting him into the 'Hell's Gate' submission. Lesnar refused to submit and gave Taker the middle finger before passing out and losing the match.
Notably, Lesnar has also lost twice to a single Superstar in this era. Seth Rollins and Goldberg both defeated 'the Beast' twice. After WrestleMania 20, Goldberg defeated Lesnar at Survivor Series 2016. Rollins defeated Lesnar at WrestleMania 35 and SummerSlam 2019.
The current World Champions of WWE have also defeated Lesnar. Universal Champion Roman Reigns defeated Lesnar in 2018, one year before his Shield brother defeated him. Coincidentally, Reigns won his first Universal title after this match.
ADVERTISEMENT
Article continues below this ad
Similar to Reigns, the current WWE Champion, Drew McIntyre, won his first World title after defeating Lesnar at WrestleMania last year. Since then, Lesnar has left WWE.
Whenever WWE gets someone to defeat Lesnar, it is usually because the management wants to put over the Superstar. After all, defeating the 'Beast Incarnate' is not an easy feat.
ADVERTISEMENT
Article continues below this ad