From Kane to Jeff Hardy, Four WWE Superstars Who Might Retire in 2021
Published 01/17/2021, 8:30 AM EST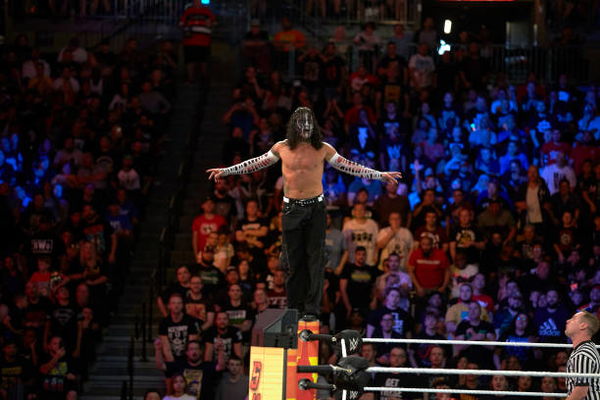 ---
---
With the beginning of a new decade, it is time for younger superstars to rise to the occasion. As more spots get occupied by younger wrestlers, it will force the old guard out. Fortunately for some, the age for retirement has come. While 2020 saw Undertaker and Jushin Thunder Liger hang up their boots, which WWE superstars might retire in 2020?
ADVERTISEMENT
Article continues below this ad
Jeff Hardy's injuries catch up to him
ADVERTISEMENT
Article continues below this ad
No man personifies the word daredevil better than Jeff Hardy. The Charismatic Enigma was wowing crowds with his high-flying skills before the likes of the Young Bucks and Will Ospreay. Hardy's two decade career is littered with some glorious moments. He is a former World Champion and WWE Champion, an Intercontinental Champion, and a multi-time tag team champion.
With a wrestling style like Hardy's, injuries come swiftly. Hardy has also had issues with drug addiction, especially painkillers. These issues stem out of his injuries and his attempts to self medicate them. Not to sound morbid, Hardy is lucky to be still wrestling at 43.
The time for Jeff to hang his boots and wash the paint off his face has come. He has already built a very rich legacy in WWE, TNA and even Ring of Honor. Unless he joins his brother Matt in AEW, Hardy might retire in 2020.
The American Dragon's WWE flight descends
Daniel Bryan has declared that this run will be his last run in wrestling. Most fans expected him to leave WWE and return to ROH, or even go to NJPW so he could wrestle the last leg of his career in the way he wants. Instead, Bryan stayed in WWE, and continues to wrestle till he feels the time is up.
Bryan has had a long series of injuries to his neck, including one that forced him to retire in 2016. The risk of slipping into paralysis is too large for Bryan to extend his career beyond 2021.
A WrestleMania showdown with Roman Reigns sounds like a fitting send off to the American Dragon. The memories of him winning the WWE World Heavyweight Championship, and the creation of the 'Yes' chants will live in forever.
WWE's Big Red Machine hangs up his mask
Kane has not wrestled a match in WWE since Crown Jewel 2018. That match, alongside Undertaker vs D-Generation X, was one of the worst matches of all time, and it cost Kane one of the most embarrassing moments of his career. It is fortunate that his mask coming off isn't the last memory I have of Kane in a WWE ring, but it undoubtedly time for him to retire.
At 53, Glenn Jacobs is adjusting to life as the mayor of Knoxville County. It is quite a pleasant surprise that despite holding that position, Kane wrestled in Saudi Arabia, the 2018 Royal Rumble, and won the 24/7 Championship from R-Truth. His accomplishments in wrestling are plentiful, and he has achieved nearly everything there is to achieve.
Edge's dream WWE run ends
ADVERTISEMENT
Article continues below this ad
At the 2020 Royal Rumble, Edge shocked the entire world by returning to the WWE. The Rated-R Superstar needed triple fusion neck surgery to heal his injuries, and was at the risk of paralysis, but his return was a glorious moment. His rivalry with Randy Orton was incredible and left very little to be desired by the end.
It is likely that Edge will return at the 2021 Rumble, as he has been nursing a torn tricep injury. The happiness of him returning will last momentarily, as reality catches up to him. His contract is allegedly for three years, but with him suffering a terrible injury in his first six months of returning, he might decide to call the curtains on his run a little earlier.
There are a ton of dream matches for Edge that we haven't seen yet. From Seth Rollins to AJ Styles, the list of dream opponents for him goes on and on. However, will he be able to craft a match against a younger and quicker opponent? Will we see Edge compete in the ring for more than another year? Is 2021 going to be the second time we say goodbye to him?
ADVERTISEMENT
Article continues below this ad
Edge, Jeff Hardy and Kane are three superstars that have been competing since the 90s. It seems time to call the curtains on their legendary careers. As for Daniel Bryan, his career is proof that size does not matter, but his constant hard work and determination has rendered him considering retirement at 39.