From Melina to Ronda Rousey- Female Superstars Who Could Make WWE Return at Royal Rumble 2021
Published 01/23/2021, 8:30 AM EST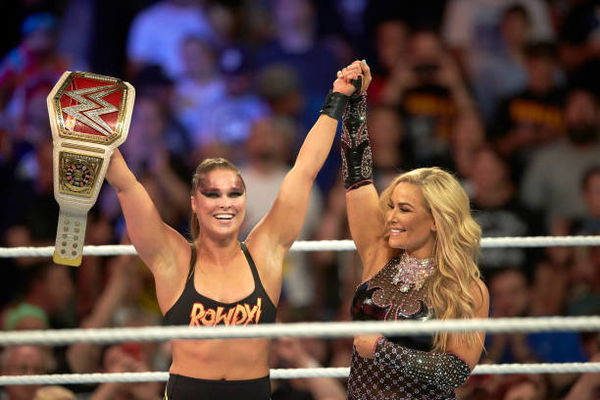 ---
---
The Royal Rumble is a haven for former WWE Superstars and legends to make one-off appearances. From the Hurricane in 2018 to Diesel in 2011, the Rumble has seen some iconic characters from previous eras.
ADVERTISEMENT
Article continues below this ad
The women's Royal Rumble has relied heavily on past talent and legends, mostly because of their limited rosters. Leaving aside NXT talent, which surprises can we see at the 2021 Women's Rumble?
Michelle McCool returns to action at the Royal Rumble
ADVERTISEMENT
Article continues below this ad
In the 2018 Royal Rumble, Michelle McCool picked up the most eliminations. That is a startling feat for a wrestler who last competed in 2011 and one who went up against the toughest women in the business.
She picked up more eliminations than the daunting Nia Jax, the iron woman Sasha Banks and the eventual winner Asuka. Seeing McCool in the 2021 Rumble would be fantastic, especially considering the fact that she recovered from COVID-19 only recently.
Naomi dazzles the Thunderdome
Putting on performances on par with Kofi Kingston, Naomi is a Royal Rumble MVP. The acrobatic Superstar has pulled off some incredible Rumble match saves and is always the dark horse in the match. She made a huge return at the 2020 Royal Rumble but has been out of action for a year because of a medical surgery.
It has been three years since Naomi won a title in WWE, and she would make a wonderful opponent for Asuka at WrestleMania. Even if she does not win, fans are eager to see what insane measures Naomi takes next to avoid elimination.
Kairi Sane anchors her pirate ship at the Royal Rumble
WWE is sorely missing former NXT Champion and Tag Team Champion Kairi Sane. The Pirate Princess was one of the most talented roster members and was a fan favourite too. Losing her was a big hit to Raw Women's Division, as they lost one of their star performers.
If Kairi were to return to the WWE, it should be at the Royal Rumble. The Japanese sensation is an ambassador for WWE in Japan and was even part of the Japanese commentary team for Hell in a Cell. There's nothing fans wouldn't do to see another Insane elbow from Kairi Sane in WWE.
Melina returns to the ring at the Rumble
At Raw Legend's Night, Melina made a small cameo in a backstage segment involving Lucha House Party. The WWE Universe was buzzing for her appearance but was disappointed with the limited capacity in which she appeared.
A Rumble match appearance for Melina would be a splendid surprise for WWE fans, especially considering how popular she is now. Fans are craving to see Melina return to the ring, and a strong showing in the Royal Rumble would be the perfect end to her wrestling career.
The Rumble gets 'Rowdy'
ADVERTISEMENT
Article continues below this ad
In all fairness, Ronda Rousey's exit from the WWE was jarring. The reason for her leave of absence was understandable, and WWE were absolutely right to not try to coax her into returning.
Unfortunately, her attitude towards the WWE has been terrible.
ADVERTISEMENT
Article continues below this ad
If Rousey returns at the Royal Rumble, she will become an instant favourite to win the match. Bringing her back would undermine homegrown talents who have been very impressive in 2020, like Bianca Belair, Carmella, Natalya and even Lana. However, the prospect of seeing Ronda in the Rumble will be huge for the WWE.
Whether or not these wrestlers return to the WWE, the Royal Rumble promises to be a stellar event.