From Rated RKO to RK-Bro, Every Tag Team Randy Orton has been a Part of in WWE
Published 05/12/2021, 8:30 AM EDT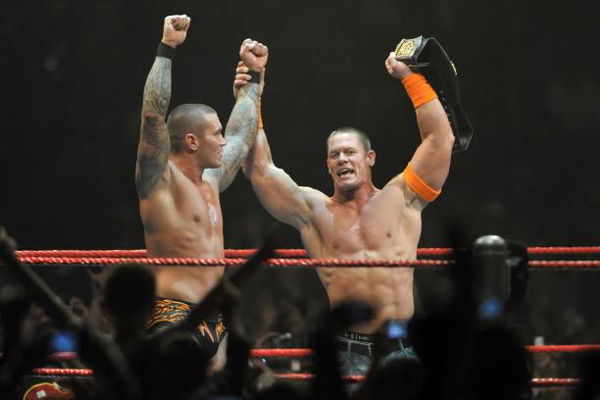 ---
---
Despite his nickname suggesting you wouldn't want to be his partner, Randy Orton has had many tag team adventures. Currently, the Viper is part of a highly entertaining duo with Matt Riddle. However, who were Orton's partners before Riddle came into the picture, and with whom did he win the WWE Tag Team Championships.
ADVERTISEMENT
Article continues below this ad
First partners in WWE and Evolution
ADVERTISEMENT
Article continues below this ad
Randy Orton debuted in 2002 on SmackDown, defeating Hardcore Holly. He then feuded with Reverend D-Von and his bodyguard, 'Deacon' Batista. Orton teamed up with the Big Valbowski, Mark Henry, and Farooq. Orton couldn't slay the Animal on SmackDown. Thereafter, he moved to Raw as a part of the WWE Draft.
On Raw, he found solace in the arms of Ric Flair and Triple H. They formed the stable Evolution and ruled Raw for the subsequent year. Orton teamed up with Evolution at WrestleMania, when he, Flair, and Batista faced The Rock and Mick Foley. Later that year, Evolution kicked Orton out of the group.
Edge and Randy Orton [Rated-RKO]
Orton found success in singles rivalries against the likes of Undertaker and Rey Mysterio, but his next tag team partner came out of nowhere. In October 2006, Triple H and Shawn Michaels cost Edge the WWE Championship in a steel cage match against John Cena. Enraged, Edge approached Orton and together they schemed to rid WWE of D-Generation X.
Rated-RKO beat DX at Cyber Sunday 2006, launching them up the tag team ranks. They even won the World Tag Team Championships on Raw, beating the legendary team of Ric Flair and Roddy Piper. Their despicableness led to them hitting the con-chair-to on Roddy Piper.
Rated-RKO feuded with HBK after Triple H suffered a quad injury. They lost to HBK in a handicap match, after which their collapse began. In the run-up to WrestleMania 23, Rated-RKO was as good as done as both men faced off in the MITB ladder match.
They briefly reunited after WrestleMania and even featured in a fatal four-way match for the WWE Championship at Backlash 2007. After neither man won the title, Edge walked out of Raw by cashing in the MITB briefcase on the Undertaker. That spelled the end of Rated-RKO, and perhaps Orton's longest friendship in WWE.
Legacy
In 2008, Randy Orton found two young superstars who respected him for his outspokenness. Cody Rhodes and Ted DiBiase were the WWE Tag Team Champions, but Orton berated them when they lost them to Cryme Tyme. However, they began seeking Orton's respect by doing his dirty work.
Legacy helped Orton win the 2009 Royal Rumble and even helped him win the WWE Championship from Triple H. When Orton lost the title to Batista, Rhodes and DiBiase attacked him and forced him to vacate the title. The next night, Orton beat John Cena, Big Show, and Triple H to win the title again.
Legacy played a huge role in keeping Orton WWE Champion in 2009, but their split came in 2010. DiBiase cost Orton the WWE Championship inside Elimination Chamber after eliminating him with a shot from a steel pipe. Orton destroyed Legacy by beating Rhodes and DiBiase at WrestleMania in a handicap match.
Friendship with John Cena
While most of the times Orton and Cena were at each other's throats, they were a brilliant team as well. To showcase their dominance over the roster, Orton and Cena took on the entire WWE Raw roster in an elimination match.
Orton and Cena continued to team up in 2011 to take on Sheamus and Edge, and also during Cena's rivalry with the Nexus. The issues with the Shield also led to Cena and Orton teaming up. Similar to his bizarre friendship with Cena, Orton also teamed up with the likes of Daniel Bryan, Roman Reigns, Jeff Hardy, Dolph Ziggler, and even JBL.
Randy Orton joins The Wyatt Family
Randy Orton's rivalry with Bray Wyatt ended with Orton aligning with the Wyatt Family. It became the perfect example of- if you can't beat them, join them.
They won the SmackDown Tag Team Championships from Heath Slater and Rhyno at TLC 2016, but lost it quickly to American Alpha. Orton's friendship with Wyatt led to him winning the 2017 Royal Rumble, but things changed once Wyatt won the WWE Championship at Elimination Chamber.
The Viper betrayed Wyatt and burned down his compound before beating him at WrestleMania for the WWE Championship.
ADVERTISEMENT
Article continues below this ad
Team RK-Bro
After Riddle shockingly beat him on Raw, Orton expressed his interest in teaming with him. Although it was Riddle who wanted to form Team RK-Bro, Orton happily aligned with him and they are now unbeaten on Raw.
ADVERTISEMENT
Article continues below this ad
Will Randy Orton and Matt Riddle win the Raw Tag Team Championships soon, or will the Viper show his true colors and turn on Riddle for more singles success?